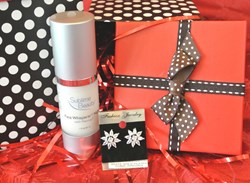 This is a gift to impress: the Face Whisperer® Night cream paired with cubic zirconia earrings in a beautiful gift box.
St. Petersburg, FL (PRWEB) December 04, 2013
Jewelry to impress - starburst cubic zirconia earrings presenting in a beautiful box with the popular Face Whisperer® Night Cream. Two gifts in one will please her!
"We paired fashion jewelry and our skincare serums for the holiday season," says Kathy Heshelow, founder of Sublime Beauty®. We have a downloadable Gift Guide on our website along with all of the offerings and Christmas videos."
While quantities last, the cubic zirconia earrings and Face Whisperer® night cream are on sale. The Face Whisperer® line has been featured on television this year in a spot by Consumer TV Watch(History and Ion Channels), and the line was also highlighted elsewhere.
Jewelry to please every taste has been chosen for the gifts this year, including classic, modern and artistic. The Gift Guide shows all of the choices, and sales will continue during the shopping season.