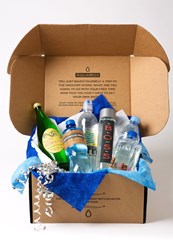 AquaBox, while only a concept, highlights the environmental impact of our choices and questions at what expense we'll go to for personal convenience.
Aliso Viejo, CA (PRWEB) December 04, 2013
KOR Water, a company obsessed with hydration, knows that getting someone to make a habitual change, even if it betters their life and the environment, requires a revolutionary product. It takes a product that is so highly designed, functional, convenient and affordable that it becomes irresistible. Accepting this challenge, KOR launched the Nava, a filtering water bottle that reached its Kickstarter goal in only three days and received worldwide acclaim. Continuing to raise the bar in the industry, KOR announced the offering of two hydration subscription solutions this holiday. One slightly more convenient than the other.
AquaBox™ is the newest box subscription program to hit the market and finally offers the convenience of discovering the world's most exotic and distant waters from the comfort of home. AquaBox contains water from the world's most pristine sources that has been tapped and bottled and then delivered directly to subscriber's doorstep every month.
The $29.95 / month AquaBox subscription includes:

Six highly curated bottles of water delivered to your doorstep every month
Water sourced from around the globe and brought to your home
The opportunity to tell your friends that you don't ever have to refill a reusable bottle
"With the explosion of monthly subscription services that deliver dog treats, cosmetics or even male couture directly to your doorstep, the AquaBox delivers the perfect holiday gift to the person who has everything," said Eric Barnes, CEO and Co-Founder of KOR. "It's unique, opulent and says 'my time is so valuable I don't even have time to refill a water bottle'."
Nava + FreeWater™ filter subscription program is the most cost effective and conveniently sustainable way to stay hydrated. Free water is everywhere and with the Nava reusable hydration vessel consumers can have clean, great tasting water wherever they go, for free.
The $39.95 Nava + FreeWater subscription includes:

Highly designed reusable water bottle that has received accolades by respected industry publications such as Dwell, Gizmodo and Design Milk
Coconut carbon filters, delivered right to your home when you need them, for one year
Concierge e-mail service that reminds you when it's time to change the filter
Gift with purchase: Cool style and helping save the planet
"Unlike charging stations that are only available in limited and sometimes inconvenient locations for electric vehicles, KOR's 'hydration stations' were built out way ahead of schedule — over fifty years before KOR was created, to be exact — and encompasses an estimated 1.3 million locations. They're called public water fountains and bathroom taps – and they're everywhere," said Barnes.
KOR believes that fresh-tasting water should be accessible wherever there's a potable source, without having to spend a lot of money. Nava + FreeWater turns any tap into a mountain spring, delivering water as fine as any that's bottled. The AquaBox subscription, while only a concept, highlights the environmental impact of our choices and questions at what expense we'll go to for personal convenience.
Check out more FAQ's about AquaBox and FreeWater at: http://www.korwater.com/aquabox
Join the conversation using #FreeWater
For hi-res photos, videos and more, visit KOR's online press kit (http://bit.ly/186lAsJ)
About KOR Water
KOR is at the center of water. As a sustainable hydration lifestyle brand, our passion is to create the world's most beautiful and functional hydration products that filter, store and enhance the water you drink. We're obsessed with great design, in both form and function, and we strive to innovate in everything we do while making the world a better place. We call our customers "water advocates" because together we're celebrating and treasuring water, the one thing that connects us all. For additional information, please visit http://www.korwater.com, like KOR on Facebook Facebook.com/KORwater and Follow on Twitter @KOR_Water.
###