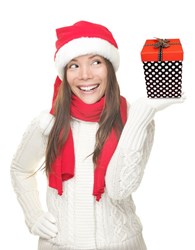 To make it easy on the men, Sublime Beauty® paired jewelry and skincare serums in beautiful boxes with no gift wrapping necessary.
St. Petersburg, FL (PRWEB) December 10, 2013
Sublime Beauty® has gifts she will be happy to receive on Christmas, and are on sale now. Most products benefit from free shipping through Amazon, too.
Sublime Beauty® is a quality skincare company for men and women, offering a range of popular products.
"For the holidays, we paired serums and jewelry so women would get two gifts in one. To make it easy on the men, we present the products in beautiful Christmas boxes with no gift-wrapping necessary," says Kathy Heshelow, founder of Sublime Beauty®.
A stunning cuff bracelet with zebra-like cutouts will be a unique gift (paired with Retinol serum). Artistic hand-hammered earrings and bracelet paired with Collagen serum will delight her.
For the classic woman, there is a pearl-linked necklace with plumping Hyaluronic serum or a pearl-braided necklace paired with Collagen. Cubic zirconia earrings and rhinestone pearl earrings are other choices for a more conservative woman.
Not to leave the men out (who use Sublime Beauty® products), the company paired serums in a gift box, and also offer individual products like the invigorating foot balm.
There is a wide choice of products available on the Christmas page of the Sublime Beauty® website, and a downloadable Gift Guide.