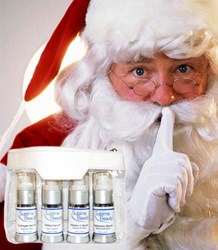 This is a great gift for those who love quality skin care.
St. Petersburg, FL (PRWEB) December 08, 2013
Women (or men) who love skin care will love this gift. Four performing serums together in a quality vinyl bag include Collagen, Retinol, Hyaluronic and Vitamin C serums.
"This is a designated 'Amazon Deal' through tomorrow, at an impressive 52% off," says Kathy Heshelow, founder of Sublime Beauty®. "All of our products are available on Amazon, so count on free shipping and secure checkout."
The four serums offer great benefits and care to the skin.
The main ingredient of the Collagen serum is Matrixyl, a peptide that can double collagen product. Loss of collagen as we age is a contributing factor to wrinkles. The serum is light and airy, very pleasant to use twice daily.
Retinol should be included in every skincare regime, according to most dermatologists. The serum is a non-irritating blend at 10%, and used at night. Retinol helps with wrinkles, age spots, skin tone and more.
Hyaluronic serum helps to deeply moisturize and plump skin, helping to replace the natural hyaluronic acid that is lost with age and time.
Vitamin C serum is a powerful anti-oxidant and healing serum.
The four serum gift from Sublime Beauty® will be available as long as quantities last. The deep discount will be in place through Monday, December 9th. Other gifts for men and women can be found on the company Christmas Gift page.