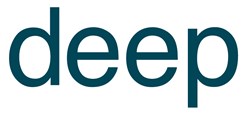 With our entire creative team wholly invested in all our projects, deep clients are the real winner of every game we play.
Springfield, MO (PRWEB) December 03, 2013
The food communications and marketing group deep today addressed the successful results achieved since the agency embraced the business model explored in the book "The Great Game of Business." The model focuses on open-book management and complete transparency for all employees. Deep Partner Valeri Lea noted the practice makes perfect sense for employees at deep, considering the agency began an Employee Stock Option Plan (ESOP) in November 2011: "Since deep employees have in fact also been owners since we rolled out ESOP a few years ago, the concepts introduced in 'The Great Game of Business' were an obvious fit for our team."
Along with deep Partner, Creative Director Dan Stewart and Marlin Network Controller Cabot Brothers, Lea has attended several training seminars on "The Game." The three agree a major benefit of implementing transparency on all fronts is that it inspires employees to take the type of passion they have for each persuasive advertising campaign and apply it to building deep as a whole. "As our people learn details about the business behind all the creative," said Lea, "they begin to think long term, take on more accountability and become heavily engaged in growing their agency. The goal is to inspire them to think like owners, because they are owners. And the model is already working."
Stewart described how deep has put "The Game" into practice, stating that each quarter management defines critical goals they must reach to maintain steady growth, and then they create company-wide activities, going so far as to concept a theme or identity designed around each goal. "For example," he said, "we needed to do a better job of staying within project budgets, so we launched a game called Top Shot. It's a bullseye game, and if the team stays on target, we win." At deep, such games generally last for three months, corresponding with quarterly goals. Fittingly, after reaching the goals for Top Shot, Stewart and Lea took the entire team to play another targeting game: paintball.
Since the food communications agency began running games like Top Shot and Rev It Up, which is focused on top-line revenue, the contests have led to measurable results. Lea said she has heard encouraging feedback as well: "Our employees have always enjoyed the creative work environment at deep, but after introducing these games in late 2012, it's clear they feel more valued. Many have also told us they're more engaged in all aspects of our business, not just the projects they're working on. The extra effort is really paying off too, as we anticipate at least a 15 percent growth increase in 2013 versus last year."
Currently, the many owners of deep, along with the newer employees who are earning ownership every day, meet on Wednesday mornings to discuss the company finances. Stewart discussed the importance of the weekly meetings and the company's games, stating, "It's great. We gather around our giant squid—the office mascot—and post our monthly projections for revenue, expenses and the remaining profit. Since profits drive our bonus share program, these meetings really motivate our employees to crush every project for every client. With management, employees and even interns wholly invested in all our projects, deep clients are the real winner of every game we play."
deep
A Marlin Network agency, deep was founded in 2005 and is 100 percent employee owned and operated. Deep is known for breakthrough creative campaigns for national and international clients and, as part of Marlin Network, remains the number one purchaser of foodservice media. Marlin Network includes deep, The Alchemedia Project, STARAwards, FoodIQ, Marlin and Marlin Network Consulting. The collective represents more than 70 major food and beverage brands and was included in Inc. Magazine's list of America's Fastest Growing Companies in both 2010 and 2011. For more information, follow deep on Twitter, Facebook, Flickr and the b!eep blog or visit deepgroup.com.