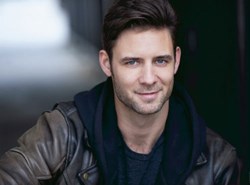 I think what people will really relate to it is the humanity of it all. It's a family-driven show. It also showcases that fight to survive. It's really cool.
(PRWEB) December 02, 2013
Not always known for acting - he first played hockey for the Halifax Mooseheads - Steve Lund is now making a name for himself on the Syfy network. Brianne Hogan, junior writer with TVRage.com, recently chatted with the actor about his latest role as werewolf Nick Sorrentino on the upcoming Syfy supernatural series 'Bitten,' which revolves around the last female werewolf in existence (Laura Vandervoort).
Here's an excerpt from the interview:
TVRage: Tell us about your role on the show. You play Nick Sorrentino. How would you describe him?
Lund: Nick is very much a fun-loving guy. He comes across as not being so serious, but he really understands his role in the pack. Because the Sorrentino name has been in the pack for many generations, I honor that role respectfully, but I'm not so interested in following in my father's or grandfather's footsteps. I have my own ventures, I'd like to think I'm my own man. You see a change in Nick as the series goes on and when the body count piles up. He takes more authority and responsibility because he's needed.
TVRage: How do you get into the skin of Nick? How much does his being an animal play into your performance?
Lund: Lot of snarling. Often salivating. (Laughs) You don't see us sniffing around or sniffing each other's butts or anything like that, but it requires a unique intensity to have that secret in your day-to-day life. The audience will pick up on the fact that we have different instincts than a normal human being, but we didn't want it to be a huge part of the show. Humans first, werewolves second. Because the show is very human and has family values. We wanted it to have a realistic approach to show that loyalty, that undying love for your pack. It's very present in all the writing.
'Bitten' premieres Jan. 13 on Syfy.