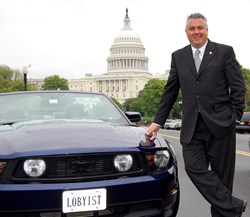 Fairfax, VA (PRWEB) December 03, 2013
Miller/Wenhold Capitol Strategies is proud to announce that our President, Dave Wenhold, received the first annual Government Relations Professional of the Year Award in a presentation last week in Washington, D.C. The award was presented by the Association of Government Relations Professionals (formerly the American League of Lobbyists) to recognize an individual who has displayed unparalleled vision, support, and leadership toward the mission and goals of ALL, as well as the lobbying profession.
Dave was selected because of his integrity and ethical standards in his role as an advocate for his clients, civic engagement, mentorship of young professionals and his pro-bono work.
"It is an honor to be the first person to ever receive this award highlighting excellence in advocacy," Wenhold stated. "I have spent my career working to give associations and nonprofits a strong voice in Washington. Reputation, relationships, and results are the way we do it at Miller/Wenhold and we have built our firm on ethics and accountability. That's something to be proud of!"
Dave also is proud of his firm's commitment to pro-bono work and giving back. He has created a national suit drive that helps Americans get back into the workforce; in 6 years, over 50,000 suits – valued at over $2.1 million - have been donated back to nonprofits. This year he also used his Washington contacts to highlight a documentary on forgotten soldiers killed in action during the pivotal Battle of Tarawa in 1943. This battle was a key victory to opening up the Pacific War in WWII. The film, "Until They Are Home," received Oscar consideration and highlighted the ultimate sacrifice some paid for our freedom.
"I am extremely fortunate to have such great clients who know the value of advocacy and they are the reason behind my success as an effective lobbyist. This award is for them as much as it is for me," Wenhold said.