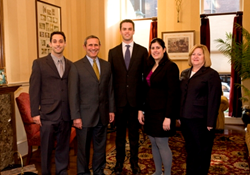 (PRWEB) December 04, 2013
Joseph R. Pozzuolo, Jeffrey S. Pozzuolo and Judith P. Rodden, will be teaching two 1 hour seminars titled "Estate Planning For An Aging Graying Population" and, "The Combine Role of CPAs and Attorneys in Family Law Litigation being held by LawLine, in King of Prussia, Pennsylvania.
To obtain more information please contact Christine Wainwright @ 215-977-8200 or visit our website: http://www.pozzuolo.com and click Educational Seminars.
Contact our Philadelphia Law Firm with your questions, comments or concerns.
Pozzuolo Rodden, P.C. provides specialized cost-effective legal services to privately held business owners and high-net-worth clients in Pennsylvania and New Jersey in excess of 35 years.
Practice Areas: Business/Corporate Litigation | Business/Corporate Law | Real Estate | Employment Law | Estate Planning | Tax & Pension Law | Family Law
Pozzuolo Rodden, P.C.
Counselors at Law
2033 Walnut Street
Philadelphia, PA 19103
215-977-8200
http://www.pozzuolo.com