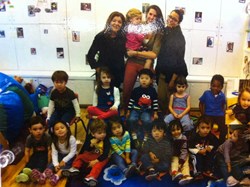 'We love our Rhinelander school!' says the children who attend the beautiful and nurturing school.
Upper East Side, New York, NY (PRWEB) December 04, 2013
A new location to house Rhinelander Children's Center has been identified by the Committee to Save Rhinelander — a group of parents, administrators and teachers that are dedicated to preventing the closure of the Rhinelander Children's Center http://www.rhinelandercc.org by raising funds to continue its programming. The Children's Aid Society, Rhinelander's current parent agency, announced in June of this year that it plans to discontinue its financial support and sell the East 88th Street brownstone that currently houses the center's programs.
The new location is just blocks away from the existing site and will require a strong fundraising push over the next several weeks to secure. The relocation cost is estimated to be roughly $250,000 and while the committee has held fundraisers to raise money for the move, it has a long way to go to meet this goal. The group is in urgent need to achieve these sights by mid-January 2014 to secure the site in time for programs to continue in the fall and beyond.
The Rhinelander Children's Center has provided educational programming for children of families in the Upper East Side Yorkville community for more than 25 years. In that time, Rhinelander provided generous financial aid to families in need. The center has a history of serving the community for over a century, having been established in 1891 as a trade school to teach girls skills such as jewelry and lace-making. Rhinelander went on to provide the city's first pediatric dental and mental health clinics during the second half of the 20th century and later began offering after-school programs, drug prevention, tutoring, mental health services and job readiness training services to Yorkville's low-income families.
By 1990, Rhinelander was offering "Mommy and Me" and toddler classes for children under age 4, visual and performing arts for neighborhood elementary school children, and a recreational program for deaf and hard-of-hearing children. By the mid-1990s, an accredited nursery school, summer camp program, and Saturday recreational program for deaf and hard-of-hearing teens were also available. Rhinelander now serves approximately 600 children annually in the Early Childhood, Nursery, and After-School Programs.
The Committee to Save Rhinelander has incorporated as a non-profit, started a 501c3 application to become a tax-exempt organization, prepared a standalone operating budget, and now have identified a space in which to continue Rhinelander's programming.
A current parent stated, "The closure of Rhinelander would leave middle class families with very few affordable childcare and early education class options. We believe that an economically diverse city, including middle class families, benefits all residents and that Rhinelander has been an important anchor that has helped to preserve this diversity." Local politicians including Jessica Lappin, Ben Kallos and Dan Quart have provided their support in the form of endorsement letters attesting to the important contributions and impact that Rhinelander Children's Center has made to the community.
The Save Rhinelander website at http://www.rhinelandercc.org contains an online donation option and additional updates. Donation checks to save Rhinelander's programs should be made payable to "Friends of Rhinelander Children's Center," and sent to the attention of Ellen Santoro at 350 East 88th Street, New York, NY 10128. Please call 212-876-0500 for more information.