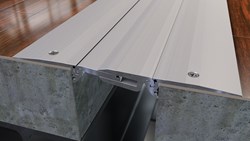 Restofit Joint Systems extend a building's life and protect it against inevitable structural wear and deterioration.
Muncy, PA (PRWEB) December 03, 2013
Construction Specialties Inc. (C/S), a leading manufacturer of high-performance specialty building products, has added a new line of products specifically designed for replacing existing, worn or broken expansion joint covers. C/S' new RestofitTM Joint Systems improve building resiliency while minimizing replacement time and maintenance expenses.
RestofitTM Joint Systems accommodate existing construction with little to no modification of the floor surface. Building owners no longer need to close part of the building to replace joint covers, saving time and money. By requiring minimal work for installation, the RestofitTM line allows joint cover replacement to be completed within a few hours, making the job easy to accomplish overnight or during off-peak hours. Additionally, C/S engineers and technical experts can now recommend the best solution by analyzing project conditions through site photography.
C/S has engineered and developed four new expansion joint cover models, which will combine with four already existing models to make up the RestofitTM offering. The new, all-metal covers are highly resistant to rolling loads, distortion and wear, and accommodate interior and exterior floor finishes. Models RFA and RFD were designed with a more gradual slope than ADA code requires to reduce the bump as much as possible for wheeled traffic. Both of these models will accommodate heavy-duty loading, as well as offsets in floor elevation.
All RestofitTM joint covers employ superior design to provide a low-profile solution for protecting high impact areas. The new systems are ideal for high traffic areas including schools, malls, airports, shopping centers and public transit centers.
"A building is only as good as the products that hold it together," said Gabriel Blasi, General Manager of C/S Expansion Joint Covers. "Restofit Joint Systems extend a building's life and protect it against inevitable structural wear and deterioration. The bonus part of these systems is that they install quickly, preventing long, costly downtimes."
C/S has manufactured expansion joint covers for over 45 years and invented most of today's seismic, thermal and wind-sway expansion joint cover technology. Expansion joint cover products can be used on wall and floor expansion joints for both seismic and standard building movement applications.
Committed to improving manufacturing processes, C/S prides itself on the quality of its materials and efforts to reduce harmful environmental impact. The Expansion Joint Cover division contributes 20 of C/S' 39 Cradle to Cradle® certifications (all of which are LEED® v4 compliant).
For more information on RestofitTM Joint Systems, installation guidelines, or cost inquiries, please visit http://www.c-sgroup.com/expansion-joint-covers and follow on Twitter @csinconline.
###
About Construction Specialties Inc.
Construction Specialties manufactures and sells specialty architectural products internationally, with over 30 offices and manufacturing facilities worldwide. Its products include interior wall and door protection, entrance flooring, expansion joint covers, louvers, grilles, sun controls, explosion vents, smoke vents, and cubicle track/curtains. The company serves architects and designers, building owners, facility managers and contractors. Construction Specialties, Inc. was founded in 1948 and is headquartered in Lebanon, New Jersey.
Cradle to Cradle® is a registered trademark of MBDC.