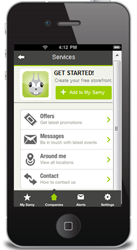 Samy is a new kind of mobile marketing and advertising platform where the entire mobile store is the ad format and consumers select the brands they want to be connected with
Sarasota, FL (PRWEB) December 04, 2013
MobileBits Corp., (OTCQB: MBIT), provider of Samy™, a leading mobile marketing and engagement network, today announced that Samy is now generally available in the United States and initially supported by over 500 shopping centers operated by DDR Corp and DLC Management Corp., which collectively serve over 100 million shoppers annually and some of the top brands nationwide.
Samy is a mobile marketing network that provides engagement between consumers and merchants through mobile storefronts created by each participating brand in the Samy network. Samy consumer applications are free to download on Google Android and Apple iOS devices.
Samy provides businesses all the online tools to create, manage and measure performance from mobile coupon and offer redemptions. Retailers, brands and merchants can now create a mobile store, exclusive offers, deals, coupons, digital gift and loyalty rewards cards all from one single online platform. Samy offers retailers a pay for performance business model and the highest return on investment (ROI) available today.
"Samy is many apps within one app where customers can connect to branded mobile storefronts by opting in and instantly receive VIP access to offer;, many of which are only available in Samy," said Walter Kostiuk, President & CEO of MobileBits. "Samy is a direct mobile marketing solution for any size business. It provides a mobile store ad format where consumers connect with brands, creating loyalty while at the same time avoiding the constant bombardment of messages from daily deal sites."
Samy offers consumers a mobile app to easily select and connect to their favorite local merchants and engage in a variety of exclusive content around offers, coupons, rewards programs, information, events and more.
To learn more visit http://www.samy.com.
About MobileBits Corporation
MobileBits (OTCQB: MBIT) provider of Samy™, a leading mobile marketing and engagement network, making it easy for consumers to connect with their favorite local brands and receive exclusive offers, deals, coupons and loyalty rewards through mobile devices and the web. The solution provides business a complete set of tools to connect with, create and manage mobile marketing and rewards to a subscribed mobile consumer. For more information, visit http://www.samy.com.
For more information contact:
JoLynn Blatz
MobileBits Corp.
jolynn.blatz[at]mobilebits.com
Forward-Looking Safe Harbor Statement:
This press release contains forward-looking statements that are made pursuant to the safe harbor provisions of the Private Securities Litigation Reform Act of 1995. By their nature, forward-looking statements and forecasts involve risks and uncertainties because they relate to events and depend on circumstances that will occur in the near future. There are a number of factors that could cause actual results and developments to differ materially from forecasted results. These risks and uncertainties include our ability to: attract end users; attract advertisers; our ability to successfully implement our current long-term growth strategy; as well as product demand, market competition, fluctuations in advertising payouts, delays in website & application development, technical issues beyond our control, reliance on the various platforms that we build applications on, and risks inherent in our operations. For a discussion of these risks and uncertainties, please see our filings with the Securities and Exchange Commission. Our public filings with the SEC are available from commercial document retrieval services and at the website maintained by the SEC at http://www.sec.gov.