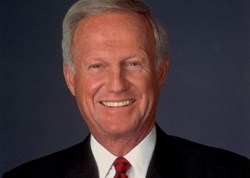 One of the most sought-after and quoted motivational speakers among Fortune 1000 companies, colleges and corporate leaders, Mackay is well known for customizing every presentation with pertinent advice geared towards each audience and their unique goals
Newton, MA (PRWEB) December 03, 2013
New York Times bestselling author and renowned business leader Harvey Mackay has partnered with the American Program Bureau to share his unparalleled insight and expertise with audiences worldwide. One of the most sought-after and quoted motivational speakers among Fortune 1000 companies, colleges and corporate leaders, Mackay is well known for customizing every presentation with pertinent advice geared towards each audience and their unique goals.
In addition to his role as the innovative business leader of the MackayMitchell Envelope Company, Mackay has written seven New York Times bestselling books, three which have reached #1, and two named by The Times as among the top 15 inspirational business books of all time – Swim With The Sharks Without Being Eaten Alive and Beware The Naked Man Who Offers You His Shirt. Additionally, he has sold over 10 million books, which have been translated into 46 languages, showcasing his appeal with businesses and groups internationally. Mackay's broad audience is further expanded through his work as a nationally syndicated columnist whose weekly articles appear in over 100 top magazines and newspapers.
Central to Mackay's talks are valuable lessons that address ways to stay competitive in an often cut-throat world without sacrificing one's personal integrity. Using his wit, wisdom, and real-life stories, Mackay openly shares his secrets on how to develop more productive relationships, survive the ever-changing job market, and outsell, out-negotiate, and out-motivate the competition. Attendees to one of Mackay's many keynotes often remark on the profound lessons they have leaned and how they can apply this knowledge to better their own lives.
Organizations wishing to book Mr. Mackay should contact American Program Bureau at 1-617-614-1600 for information on available dates and program topics. For more information on American Program Bureau, please visit http://www.apbspeakers.com. For a profile on Harvey Mackay, please visit http://www.apbspeakers.com/speaker/harvey-mackay.
About American Program Bureau
American Program Bureau is proud to showcase the voices of today's most innovative thought leaders and represents many key figures in the world of business, training, networking and motivation, including Rick Belluzzo, Daymond John, Maelle Gavet and Robert Safian.
The global leader in the professional speaking industry, APB represents hundreds of speakers and serves thousands of clients worldwide. Today, APB 's roster includes inspiring voices across the realms of business, government, science, health and entertainment, such as Mikhail Gorbachev, Archbishop Desmond Tutu, Richard Branson, Michael Douglas and many others.
# # #