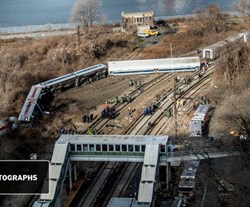 New York, New York (PRWEB) December 03, 2013
The Law Offices of Heath D. Harte today announced what survivors may expect from the investigation of the National Transportation Safety Board (NTSB) and what is needed to bring action against those responsible for the tragedy. According to a report from Newsday Long Island (Deadly Metro-North crash is MTA's fifth derailment this year, December 1, 2013) the deadly crash is MTA's fifth derailment for 2013.
Any legal proceeding instituted against a railroad must be based on the official regulations found in the Code of Federal Regulations.
According to the Newsday report, NTSB held two days of hearings examining safety issues at Metro-North stemming from the May derailment and the deadly strike of a track worker in West Haven, Connecitcut, 11 days later.
"The NTSB will not only need to determine the cause of the derailment, but must also determine any breach in safety protocols. There are routine inspections, mandatory maintenance, mandatory reporting processes and many other levels of checks and balances that are built into Compliance processes," said Wrongful Death and Personal Injury Attorney Heath D. Harte.
The scope of track and rail and infrastructure integrity compliance has many components that may make the NTSB investigation complex. Wrongful Death and Personal Injury Attorney Heath D. Harte explains that, "on behalf of any injured clients and families of the deceased who hire the firm, the Law Offices of Heath D. Harte would seek to secure for them the compensation that they are due."
If you or a loved one was involved in the NY MTA Metro-North train derailment from Poughkeepsie to Grand Central, please call an experienced and knowledgeable Attorney.
About the Law Offices of Heath D. Harte
With over 25 years of experience, the Law Offices of Heath D. Harte is a full service law firm concentrating in Criminal Law, Personal Injury Law, Estate Planning, and Real Estate. While traditional in service and style, with smart use of experience and leveraging state of the art technology to streamline services, the firm cuts out excessive overhead usually associated with law firms. Lower overhead means that the firm can offer the same service one expects from a prestigious law firm, like the Law Offices of Heath D. Harte, at lower, more affordable costs to clients. The firm's ultimate goal is to provide aggressive, reliable and effective legal representation at an affordable price. The firm also offers creative fee structures to accommodate clients' needs, especially in today's economic climate.
Contact
To learn more about The Law Offices of Heath D. Harte locations and services, please contact:
The Law Offices of Heath D. Harte
1700 Bedford Street, Suite 102
Stamford, CT 06905
Office: (203) 724-9555
questions(at)hartelawoffice(dot)com
http://www.HarteLawOffice.com