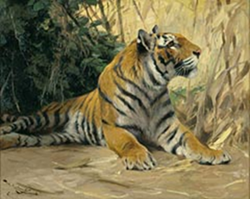 "In some instances, paintings and illustrations are the only record of certain wildlife species that we have," says Curator Adam Duncan Harris.
Jackson Hole, Wyoming (PRWEB) December 03, 2013
A new exhibition, exploring wildlife conservation themes through the work of artists from the 1800s through the present, "Conservation Gallery" has opened at the National Museum of Wildlife Art in Jackson Hole, Wyo., where it will remain on display through April 13, 2014. The "Conservation Gallery" show has been scheduled November – April to be accessible to the many skiers who visit Jackson Hole Mountain Resort and the town of Jackson, Wyo., during ski season, as well as for Wyoming locals' enjoyment.
Petersen Curator of Art and Research Adam Duncan Harris and Curatorial Interns Colleen Fitzgerald and Melynda Seaton drew on the National Museum of Wildlife Art's extensive permanent collection to assemble the exhibition. "Conservation Gallery" features artists' depictions of animals severely threatened in contemporary times – the African elephant, tiger and polar bear – as well as others, more familiar to the museum's Wyoming landscape, such as the pronghorn, gray wolf and bison, which have rebounded from the verge of extinction through conservation efforts.
"American wildlife artists have helped to capture the positive and negative results of humanity's interactions with wildlife still found today, as well as those that are simply a memory. In some instances, paintings and illustrations are the only record of certain species that we have," says Harris.
Harris goes on to explain that artists' takes on their wildlife subjects can range from that of early American artist William Jacob Hays, who depicted the animals he saw on exploratory expeditions to the American West, visually preserving them for future generations, to more conscious conservation messages, such as Steve Kestrel's "Silent Messenger" (2005). A centerpiece for the exhibition, the Kestrel sculpture, which features a black granite raven lying in a red sandstone sarcophagus, in the artist's own words, "mourn[s] the destruction and degradation of ecosystems worldwide and the tragic loss of unique animal species."
The new National Museum of Wildlife Art exhibition explores North American conservation stories, such as the rebound of bison populations, as well as branching out to tales of wildlife across the globe. The tiger, for example, is represented in five different works, ranging from Wilhelm Kuhnert's early 20th-century "Resting Tiger" to Gwynn Murrill's contemporary bronze. Didactic labels accompanying the show engage viewers with sometimes surprising information about the animals, including the fact that more tigers are currently owned by private individuals, not including zoos, in the U.S. than exist in the wild.
Ultimately, says Harris, "Artworks depicting endangered species, whether historical or contemporary, raise pointed questions about humanity's role in species survival or extinction. We hope that 'Conservation Gallery' will help spark some of those discussions with our visitors."
Company Information: A member of the Association of Art Museum Directors and the Museums West consortium and accredited by the American Association of Museums, the museum, officially designated the National Museum of Wildlife Art of the United States by an act of Congress in 2008, provides an exciting calendar of exhibitions from its permanent collection and changing exhibitions from around the globe. A complete schedule of exhibitions and events is available online at http://www.wildlifeart.org. The museum is also active on Facebook and on Twitter at @WildlifeArtJH.
Media Contacts: Darla Worden, WordenGroup Strategic Public Relations, 307.734.5335, darla(at)wordenpr(dot)com; Ponteir Sackrey National Museum of Wildlife Art, 307.732.5444, psackrey(at)wildlifeart(dot)org.