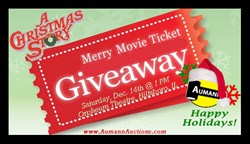 We Triple-Dog-Dare you to join in our Christmas Cheer!
Nokomis, IL (PRWEB) December 02, 2013
Aumann Auctions, Inc. brings the family movie, "A Christmas Story" to The Orpheum Theatre in Hillsboro, IL and is inviting families throughout the community to join in the Christmas spirit this holiday season. This family favorite tale will be shown Saturday, December 14th at 1 p.m.
Tickets are free to the public and include your popcorn and soda. Seating is limited and tickets are required in advance. An early Christmas present to the community that won't put your eye out!
Come and enjoy the story of a 9-year-old Ralphie Parker's determined campaign to acquire the "legendary official Red Rider carbine-action 200 shot range-model air rifle" for Christmas.
Tickets will be available beginning Wednesday, December 4th online.
To obtain tickets for you and your family for this special event:
1. Go online to: http://www.facebook.com/AumannAuctionsInc,
2. Like our page
3. Post a holiday photo. Be creative.
4. Aumann Auctions, Inc. will award the tickets until they are gone starting Wednesday morning at 6 AM. (Limit 4 tickets per household.)
We triple-dog-dare you to join in our Christmas Cheer and enjoy a family afternoon at the movies with us. If you have any questions or need any further information, feel free to email: Bridget(at)AumannAuctions(dot)com.
Aumann Auctions, Inc., a MarkNet Alliance member, is a full service auction company that is very diverse with over 50 years of experience. The company would like to thank our customers for the loyalty and support throughout the years. Aumann Auctions works nationwide and provides clients with a local and national presence, cutting-edge technology, an unmatched base of proven bidders and worldwide exposure through strategic marketing. To learn more about their services selling land, real estate, business liquidations, personal property and much more please visit http://www.AumannAuctions.com or contact us at (888) 653-8648.