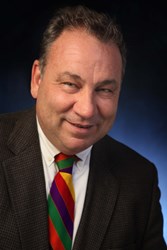 West Covina, Calif. (PRWEB) December 03, 2013
Citrus Valley Health Partners (CVHP) has named Joseph M. Zanetta, J.D has the new Chief Executive Officer for the Citrus Valley Health Foundation (CVHF).
Joe has been serving as CVHF's philanthropy advisor since late August. Prior to this time, Joe was the president of Providence Little Company of Mary Foundation for 12 years. Under his leadership, the Foundation funded two institutes' for nursing, opened several Centers of Excellence, and created a $50 million endowment. He also directed the Legacy Campaign, a comprehensive campaign to secure funds for medical centers, which included opening a health clinic and a cardiovascular institute.
Joe brings over 30 years of experience as a fundraising professional. He has led fund development responsibilities as Vice President at Whittier College, where he successfully oversaw one of the largest fundraising campaigns to date. Joe also served as Executive Director for Planned Giving and Executive Director of the Office of External Affairs at University of Southern California's School of Business Administration. He also served as Director of Development at Belmont Hill School and was the Director of the West Coast Regional Office for Cornell University.
"CVHP is fortunate to have Joe leading our philanthropic efforts," said Robert H. Curry, President/CEO of Citrus Valley Health Partners. "His experience and education are outstanding, but equally impressive is his ability to compel others to give. By building on our mission, vision and values, Joe understands the importance of developing a culture of philanthropy and the powerful impact the foundation can have on our future, transformative efforts. We are excited Joe has decided to join our team and look forward to a successful partnership."
Joe received his B.S. and J.D. degrees from Cornell University and is a member of the New York State Bar. Joe is active in many civic, professional and community organizations, including past Chairman of the Board of Holy Family Services Adoption Agency, Vice Chair of the Board of Directors of the Robert H. Jackson Center, a member of the Board of Regents at La Salle High School and a member of the Board of Governors of The City Club on Bunker Hill. Joe is also a well-known and sought after speaker on philanthropy.
"I am very excited about joining Citrus Valley Health Partners and leading their philanthropy program," said Joe. "This is such an important time in health care and CVHP is poised to take advantage of new opportunities for the benefit of all the communities we serve. The role of philanthropy and private community support has never been more critical. I look forward to joining such an outstanding health care system and team."
Joe resides in Altadena, Calif. and is the proud father of Samuel Leggett Zanetta, a sophomore at Williamette University. Joe will be joining us in early 2014.