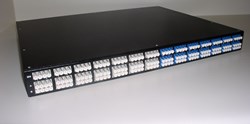 We knew from the start that we needed to develop a high density solution with flexibility in mind.
Buffalo, NY and Garland, TX (PRWEB) December 04, 2013
Garland Technology LLC, the Buffalo, NY and Garland, TX-based TAP manufacturer, has released a new model of fiber TAP with a highest density in the market. The 1U chassis can hold up to 56 TAPs with LC connectors, giving enterprise networks the visibility they need.
"This TAP is the perfect long term solution for organizations with evolving needs," said Chris Bihary, CEO and Co-founder of Garland Technology. "This is the highest density fiber TAP available on the market, granting 56 TAPs in a single 1U chassis. The 28/56, like all of our TAPs, is passive with zero network interruption. It can help any organization gain the network visibility they need to control, manage, and secure their network."
The model can support over 10 Terabits per second of traffic while using up only 1U of rack space. Other products boast 20-something TAPs per 1U chassis, but Garland Technology has outdone its competitors with this ultra-high density model.
CTO and Co-founder Jerry Dillard added that he understands the variation in customer needs. "We knew from the start that we needed to develop a high density solution with flexibility in mind," Dillard said. "We have to meet the different network sizes, speeds and specs of our customers." He continued, "As usual we placed a great emphasis on quality and reliability."
To be able to cater to different needs, the model supports 1G, 10G, 40G, and 100G networks using multi-mode and single mode fiber.
The 28/56 Fiber TAP offers access to your network for:

Network Monitoring
Analyzers, probes, and sniffers
Security IPS/IDS
Data Capture and Storage
Lawful Interception
Forensics
Intrusion Prevention
Data Loss Prevention
And so much more
The product is already proven in the market by several Banking/Financial, Telecommunication, and Mobile Carriers customers. These TAPs have been tested, certified, and installed in a Major US Banking customer, a large US Telecommunication company, and a large mobile carrier in Canada. These customers have chosen to deploy Garland Technology's high density TAPs for unique design features:
28 or 56 Fiber TAPs in a 1U Footprint
Mix & Match Single Mode Fiber and Multi-mode Fiber TAPs
Supports 1G, 10G, 40G, and 100G
Innovative Installation Connector Design: Install and Remove LC Fiber Connectors Easily
OM3 & OM4 Multi-mode Fiber Optimization for high speed 10G Telco Networks
OS1 Single Mode Fiber Optimization for high speed 10G, 40G, & 100G Telco Networks
Quality Everytime: Every TAP is manufactured, tested and certified in our US Texas Office
Learn more about the Garland Fiber network TAPs!
About Garland Technology
Garland Technology guarantees precise data monitoring capabilities for enterprise networks with no added point of failure. Garland's line of Test Access Points (TAPs) are the foundation to all network monitoring by delivering access to all data for security, network visualization, network performance monitoring, forensics, deep packet capture, data leakage, and compliance.
Garland Technology's full line of Network, Aggregation, Bypass, and Regenerating TAPs, as well as the Filtering Aggregation Load Balancing (FAB) product line, is the leading Network Access Solution. Garland's Network Access Products are available for 10/100/1000, 1 Gigabit, 10 Gigabit, 40 Gigabit, and 100 Gigabit local and wide area networks.
For more information, visit http://www.garlandtechnology.com.
Please contact Kevin Westermann, marketing coordinator, with questions or concerns:
Kevin(dot)westermann(at)garlandtechnology(dot)com
716.242.8500