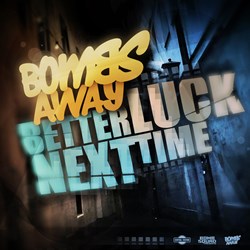 New York, NY (PRWEB) December 03, 2013
Hot on the heels of the platinum selling tracks, "Party Bass" and "Supersoaker," ARIA nominated duo Bombs Away are pulling out the big guns again with "Better Luck Next Time."
Already gaining international support, "Better Luck Next Time" is the duo's first single where we hear them singing, with a melodic vocal chorus as well as their trademark verses, adding a new dimension to their ever evolving sound. The music video stars Australian X-Factor host and ex Home And Away Australian soap star, Luke Jacobz, cast as the "dark hero" in a journey to find his passion, climaxing in an unexpectedly epic croquet battle with the Bombs Away boys.
The single package includes 6 remix tracks from the likes of MOti, Stefan Dabruck, Joel Fletcher and more, and is available everywhere today, including iTunes, and the Radikal Records website (http://radikal.com) The new music video premiered this past Monday and can be seen on the YouTube network.
Better Luck Next Time Remix Package- Track Listing
01 Better Luck Next Time (Original Mix)
02 Better Luck Next Time (MOTi Remix)
03 Better Luck Next Time (Stefan Dabruck Remix)
04 Better Luck Next Time (Joel Fletcher Remix)
05 Better Luck Next Time (Reece Low Remix)
06 Better Luck Next Time (Party Favour Remix)
07 Better Luck Next Time (Slumberjack Remix)
About: Radikal Records offers artists national distribution through SONY/Red Distribution, electronic distribution through iTunes, eMusic, Amazon and all major downloading services, and other resources including production, artist development, product marketing and licensing opportunities. In recent years, Radikal has worked with many artists including: 2 Unlimited, N-Trance, Zombie Nation, ATB, Yello, Scooter, Schiller, Blank & Jones, Cosmic Gate, Sinead O'Connor, Voodoo & Serano, Apollo 440, Ayah Marar and others. Visit http://radikal.com for more information.