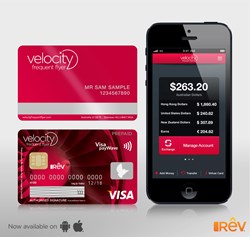 Austin, Texas and Brisbane, Australia (PRWEB) December 02, 2013
Velocity Frequent Flyer, the award-winning loyalty program of Virgin Australia, in partnership with payments technology innovator Rêv Worldwide and Visa, has received one of the airline industry's highest recognition as Travel Card Innovation of The Year at the 2013 Mega Awards recently.
The Mega Awards, now in its fourth year and established by airline conference leader Airline Information, brings together leading companies from the airline, hotel, cruise line, and car rental industries to recognize loyalty, ancillary revenue, and technology innovations pushing the travel market forward.
The Global Wallet, designed to make spending in Australia and overseas more convenient and rewarding for Velocity Frequent Flyer members, enables them to earn points on purchases anywhere Visa debit cards are accepted, manage up to 5 foreign currencies at once from a mobile wallet, access cash at ATMs worldwide, and shop conveniently with features such as a Virtual Card for safe online shopping and Visa's payWave technology for wave and go purchases.
Velocity Frequent Flyer Chief Executive Officer, Neil Thompson said, "We are delighted that the Global Wallet has been recognized by the industry in this prestigious category. We were the first in market to launch a product of this kind and the feedback we are receiving from our members is fantastic. We will continue to look for ways to innovate to offer meaningful rewards and recognition to our members".
Upon its launch, the Global Wallet mobile application rose to the 14th most downloaded app in the Financial Services category of the Australian iTunes Store, making it the first time an airline/frequent flyer program has held a top ranking in such category. The apps virtual card feature has already been used in over 9 countries, including the US and the UK.
"We are proud our integrated travel payment products are receiving worldwide recognition, and more importantly satisfying the needs of the airline customer," said Daryn Griggs, Senior Vice President of Rêv Worldwide. "From an innovation perspective, the Global Wallet launch is the next step in delivering a completely new experience for travel customers looking for more convenient ways to manage money on the go".
Visa's Country Manager for Australia, Vipin Kalra noted, "Travel card innovation in our region is moving at speed, and Australian travellers are the ones winning the most. We are pleased to have partnered with Velocity Frequent Flyer and Rêv to be first in market with this type of product".
The Global Wallet is subject to terms, fees, and conditions, and is issued by Cuscal. Please see the Product Disclosure Statement (PDS) available at http://www.velocityfrequentflyer.com/globalwallet. For more information about the Global Wallet and the Velocity Frequent Flyer program, visit http://www.velocityfrequentflyer.com.
###
About Velocity Frequent Flyer
Velocity is the global frequent flyer program of Virgin Australia, providing members with many easy, everyday ways to earn Velocity Points and enjoy fantastic rewards sooner. Not only can members earn Points by flying with Virgin Australia's international airline partners, the program also offers a large and diverse range of non-travel partners allowing members to earn Points on everyday purchases. Members can then redeem Points for flights to over 500 destinations worldwide, as well as other rewards including flight upgrades, entertainment, hotel accommodation, car hire, travel packages, charity donations, and retail products at over 150 online stores.
About Rêv Worldwide
Dedicated to driving widespread commercial availability of innovative financial services around the world, Rêv Worldwide helps partners rapidly and effectively access hard-to-reach markets enabling consumers to make affordable, safe and convenient financial transactions. Rêv's full range of integrated mobile and prepaid debit solutions – including Rêv-branded, co-branded and affinity payment products – are issued by banks, powered by its multi-language, multi-currency processing platform, and delivered by partners and directly to consumers through its growing global retail, online and mobile networks. Rêv is headquartered in Austin, Texas and operates in North America, Latin America, Europe and Asia-Pacific. Learn more at http://www.revworldwide.com.
About Visa
Visa is a global payments technology company that connects consumers, businesses, financial institutions, and governments in more than 200 countries and territories to fast, secure and reliable electronic payments. We operate one of the world's most advanced processing networks — VisaNet — that is capable of handling more than 47,000 transaction messages a second, with fraud protection for consumers and assured payment for merchants. Visa is not a bank and does not issue cards, extend credit or set rates and fees for consumers. Visa's innovations, however, enable its financial institution customers to offer consumers more choices: pay now with debit, ahead of time with prepaid or later with credit products. For more information, visit http://www.visa.com.au and @VisaNewsAU.
Media Contacts
Rêv Worldwide
Bertrand Sosa
Bertrand.Sosa(at)revworldwide(dot)com
Visa
Teneille Rennick
trennick(at)visa(dot)com