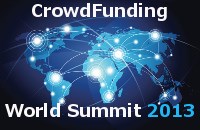 San Mateo, California (PRWEB) December 03, 2013
The CrowdFunding World Summit has come into fruition after months of gathering one-on-one interviews from global crowdfunding and provocative experts. Starting today, this 13 day event will include over 65 industry experts and speakers from members of the U.S. Congress, to case studies of crowdfunding successes, to overviews of the current and pending rules and regulations.
"This event is a great way to dig into the real 'meat' of crowdfunding," said Joseph Barisonzi, CEO of CommunityLeader Inc." I look forward to listening to the other speakers and industry leaders, and believe everyone interested in crowdfunding will find the presentations thought provoking."
CommunityLeader is a premier provider of crowdfunding portal platform software and services for the growing online securities market and have developed best practices methodology that provides issuers and investors a seamless and compliant way to engage. "CommunityLeader is at the forefront of the movement to build a workable crowdfunding infrastructure," said Mark Perlmutter, founder of Web Summits Inc. "In his presentation at the CrowdFunding World Summit, Joseph Barisonzi shares cutting-edge crowdfunding information to those investing, seeking money or providing support services."
The purpose of the CrowdFunding World Expo is to educate the public about investment options and give small business actionable information for new methods of funding. Event attendees will hear small business experts explain exactly how crowdfunding can radically change the playing field and how it may ultimately disintermediate big Wall Street money managers. With the use of effective use of social media, business owner can raise multiple rounds of funding direct from their community and meet their needs at various stages of growth. Crowdfunding may significantly improve terms and lower the cost of financing for businesses of all sizes and located in all parts of the world.
"I was excited to share a community-based vision for crowdfunding—one that focused more on funding main-street than the lottery for the next Facebook," continued Barisonzi. "You will also have the opportunity to hear me discuss CommunityLeader's powerful white-labelled full service portal platform software and services."
Barisonzi is participating in the Summit's Track Two presenter lineup titled "The Business of Crowdfunding." This collection of interviews and speakers including Barisonzi's will be available online completely free and downloadable for later viewing at a small fee. Conference registration is at http://crowdfundingworldsummit.com. "Joseph at CommunityLeader is one of the brightest guys in the crowdfunding industry, especially when it comes to all the technical and legal behind-the-scenes stuff that has to happen to make crowdfunding work. Besides being free, his presentation at the CrowdFunding World Summit is one of my top reasons for signing up," stated David Pricco, editor of CrowdedMarket.com.
CommunityLeader is a software and service provider for broker-dealers and other organizations that want to effectively link private companies and prospective investors into a platform for the compliant facilitation of securities-based crowdfunding offerings. They develop and launch custom white-labeled portal platforms that encompass portal operator's unique brand and crowdfunding ecosystem. For more information, visit http://www.communityleader.com.
.