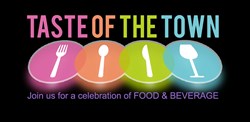 Bigger, Better, Tastier!
New York, NY (PRWEB) December 03, 2013
Start spreading the news! Premier event organizer Barcelona Enterprises announces the first annual "Taste of the Town," an exclusive wine & food festival to be held in the heart of beautiful Manhattan, NY. Festival goers will have the chance to revel in the excitement of New York's dazzling nightlife, all while supporting a local charitable cause.
"Taste of the Town" will feature a spectacular array of the finest wines and spirits as well as a sizzling selection of delectable foods from some of Manhattan's best chefs. Centered in the heart of The Big Apple, "Taste of the Town" offers patrons the opportunity to experience a party like never before. Guests will soak in the opulence of the city that never sleeps while experiencing the vibrant food and culture that only Manhattan can offer.
"Taste of the Town" will bring the excitement of Manhattan's finest eateries together, all under one spectacular roof. Join us as we celebrate the finer things in life, and be prepared to have an experience you will never forget!
Media/Press Contact: Alan Semsar alan(at)barcelona(dot)la; 818-288-4050.