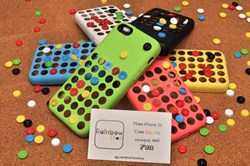 New York, NY (PRWEB) December 03, 2013
With only nineteen days left, product development firm MakeSimply has already reached nearly 70% of their Indegogo crowdfunding goal. The product, named 'Rainbow Drop,' is a decorative new iPhone 5c case add-on that provides customizable options for its users of the dotted iPhone case from Apple. The decorative dots provide a "diy" feel as the case is manufactured when paired up with the 35-hole case. The 'dots' come in six vibrant colors so users can create personalized cases for their iPhone 5c case. This is the first of its kind as users can garner a unique look to their iPhone hole cases.
'Rainbow drop' case is the first launch for the new project company 'Launchin60day'. The project, which began on September 26th, features different aspects of the hardware start-up lifestyle. It not only demonstrates idea creation, project planning, designing, prototyping and manufacturing, but it also provides an in-depth look into the daily life of an entrepreneur hastily looking for partners, designers and negotiating with manufacturers and factories.
Co-founder, Allen Shieh as well as the entire MakeSimply team is a part of the 60-day project as he comments, "We thought it would be a unique way to provide insight to the development process and hardware community to funders." He also went on to say, "In order to share our experience better, I believe the Launch in 60-days project will truly provide individuals with a better understanding of the the Lean Hardware Development process. During the 'LaunchiN60days' project, I will be sharing my life and the MakeSimply Team's work on a daily basis."
The iPhone 5c sales are predicted to increase in popularity this holiday season as mentioned in a recently Ubergizmo article ( http://www.ubergizmo.com/2013/11/weak-iphone-5c-sales-expected-in-q4-2013/ ), "TrendForce estimates that the iPhone 5c will account for 24 percent of the total iPhones shipped during this quarter, whereas iPhone 5s sales are expected to account for almost 70 percent of all iPhone sales." As such the 'Rainbow Drop' accessory has been predicted to amass a cult-like following as iPhone users seek more customization options that were previously unavailable on the market until now.
The company provides currently provides a demo video for the 'Rainbow Drop' iPhone 5c case dot add-ons via Vimeo: http://vimeo.com/80462543.
Currently, the crowdfunding project is less than $200 from reaching their estimated goal. With the duration of the funding ending on December 16th, individuals who are interested in contributing to the project on Indiegogo are urged to do so as soon as possible. Perks start at only $5 and extend up to $16 for an 'early bird' special where funders receive a 20-piece color pack.
For media inquires regarding 'Rainbow Drop' please contact Co-founder, Allen Shieh at 1-347-746-1125 or via email at allen(dot)shieh(at)makesimp(dot)ly. To learn more about the crowdfunding event or 'Launch in 60-days' project visit: http://igg.me/at/rainbowdrop