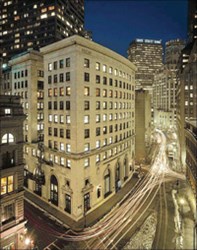 Our increased client base in the Boston area has resulted in this vision becoming a reality, and it is with great pride that we make this announcement. - John Geli, WMSI's CEO
New York, NY (PRWEB) December 03, 2013
With the recent acquisition of S&P Capital IQ Financial Communications (FC), WMSI has grown to 76 employees and plans to keep growing as the company continues to invest in product offerings that will empower clients to better anticipate and respond to customer needs. The new 100 Franklin Street office is centrally located providing continuity in service for clients while encouraging greater collaboration between WMSI's employees.
Larry McQuaid, WMSI's Chief Revenue Officer, will lead and manage this new office as his primary office location. "We're incredibly excited about the potential for the Boston office," said Larry McQuaid, WMSI's CRO. "The expansion demonstrates our commitment to the continued development of comprehensive marketing and education solutions to help our clients maximize customer engagement. Equally exciting is the ability to tap into the human-resources of an area like Boston with leading universities, a vibrant economy, and many skilled and experienced workers as we expand to meet the ongoing needs of our clients."
"Our increased client base in the Boston area has resulted in this vision becoming a reality, and it is with great pride that we make this announcement," said John Geli, WMSI's CEO. "We are encouraged by the positive feedback that we have received from current and potential clients regarding the opening of this office in Boston, and we look forward to its success."
WMSI will be hosting a grand-opening celebration for clients, partners and friends at the new Boston office in January.
About Wealth Management Systems Inc. (WMSI)
Wealth Management Systems Inc. is the leading provider of technology based rollover services within the financial services industry and provides comprehensive, web-based college and retirement planning tools, advisor solutions and financial communications and education for financial services firms. WMSI is dedicated to helping service providers, plan sponsors, and advisors support employees in maximizing their workplace benefits to achieve financial wellbeing and retirement readiness. For more information, please visit http://www.wealthmsi.com.