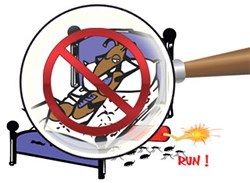 (PRWEB) December 19, 2013
Bedbugs are a nightmare. They lurk in places that make them virtually invisible and safe, enabling them to bite and cause itchy, unsightly and often dangerous series of red rashes on the skin, which can expose it to infection especially when scratched. In a recent article from NBC News, freezing or heating bed bugs might not completely eliminate the problem. They thrive in the luggage and travel to places to infest an entire room.
Over the years, many repellants have been formulated to eliminate the tiny insects that cause sleepless nights because of the itching and discomfort. The pressing issue that continues to hound people is that bed bugs have the ability to hide in areas that appear to be spotless and well-maintained.
Helping expel bed bugs from their usual hiding place, between mattress and box spring, is key in controlling the entire room. If unchecked, it is the most strategic location in the bedroom for parasites such as mites and bed bugs to accumulate, infest and launch their attack on the sleeper.
Sleep Tight Bed Pad TM. Sleep Tight Bed Pad also known as the Bugless Bed Pad, is a patent pending product by inventor Allen F. Smithson of North Tustin/Santa Ana in Orange County, CA. The new, innovative product found at BuglessBedrooms.com uses ancient bio technology for bedbug repulsion. Made of 100% cedar and encased in aerated jute, the product is to do what it has always done: repel parasites and bugs. Just as a cedar chest or closet.
"Over ninety percent of all bugs are affected and abated by this ancient bio technology that is time proven and relatively effective, since the days of King Solomon and before," said Mr. Smithson. "It is non-toxic, biodegradable, natural and all-green."
"Studies amassed in our universities and laboratories prove this to be true: cedar repell bugs. Some bugs that feed on cloth and wood and others that feed on humans and animals, some with wings, some without, all of them are potential targets of this product line."
The Sleep Tight Bed Pad TM starts the footprint of a bug free bedroom environment by circulating a natural, lightly perfumed fumigant throughout the bed area triggered by the movements of the sleeper. Placed between the mattress and box spring, the repellent expelled by the pad emanates throughout the bed outward, thereby repelling insects away from their favorite hiding place.
Sleep Tight Bed Pad from BuglessBedrooms.com is for residential, camping and commercial use.
"A hotel can vacuum and spray all day to try and combat pest problems. However, guests would not know if you or your establishment was working to protect them from bed bugs," explained Smithson. "With the Sleep tight Bed Pad, a guest can check the mattress and find direct evidence of the care and investment that is performed for a safe and hygienic sleep at the Hotel, inn, motel and/or home."
"Combined with the authentic aroma of a cedar closet or cedar chest, this product allows the sleeper a more secure state of being for sleep," added Smithson.
To find out more about the patent pending Sleep Tight Bed Pad TM from BuglessBedrooms, please visit http://www.BuglessBedrooms.com for information.
About BuglessBedrooms.com: The BUGLESS BEDROOM™ and Sleep tight Bed SashTM products are designed to be used in the usual hiding place of targeted bugs and or insects, ultimately leaving the bugs with no place to run, no place to hide, making them prey to vacuum cleaners and insect spray.