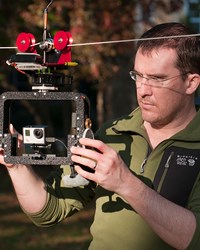 Our Pan Tilt Module gives versatility to our GoKart systems, said Ken Stone.
Hillsboro, OR (Gordian Stone Solutions) December 2, 2013- (PRWEB) December 04, 2013
Gordian Stone Solutions announces a unique, one-of-a-kind pan and tilt head for the GoKart™ O and C class line of cable cameras. The totally balanced Pan Tilt Module (PTM) is made of aluminum and ABS plastic and powered by digital servos making it a stable shooting platform for mini video DSLR and prosumer to Go Pro cameras.
The Pan Tilt Module (PTM) supports up to a kilo of payload (2.2lbs). It can go from horizontal to up to a 90-degree downward angle allowing for great down shot to horizontal or a downward 360-degree rotation. The Pan Tilt Module (PTM) turns a complete 360 degrees (continuous) without any cumbersome wiring to worry about tangling or breaking. The center of mass of the camera and tilt mechanism is centered below the pan axis, giving a smooth pan. The digital servos are rock solid and are extremely smooth to operate with no vibration or movement to ruin an otherwise stable shot of a sporting event or a tracking pan. The two servos are controlled as one by a Y adapter at the top. The rotation of one servo is reversed and both are calibrated so they don't fight against each other. Working together they are incredibly strong.
The Pan Tilt Module (PTM) is just one of the modules that keeps the line of GSS GoKart's affordable and effective for entry level and professional videographers who would otherwise be unable to purchase such a piece of equipment. The Pan Tilt Module (PTM) is powered and controlled by the Motorized Transportation Module (MTM).
Come visit us at CES International in Las Vegas, Nevada January 7 – 10, 2014. Our booth 70110 is in the Venetian Ballroom.
For more information about GoKart™ please contact Bob Collins at 503-515-8658.
About Gordian Stone Solutions
Gordian Stone Solutions is the manufacturer of the GoKart™, revolutionary modular cable camera systems for videographers.
Bob Collins, Director of Marketing
Gordian Stone Solutions
503-515-8658
http://www.gssgokart.com/