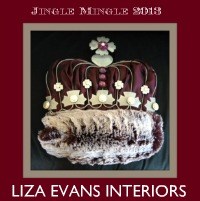 I believe a designer produces their best work when they remember that they are not more important than the client or the design. – Liza Evans
San Francisco, CA (PRWEB) December 02, 2013
When London based interior designer, Liza Evans brought her brilliantly British interior design stateside earlier this year, it was with a much anticipated arrival for her collaboration on some of this city's most exciting design commissions. From designing a prestigious private club in London that has been recently featured in the coffee table publication, 'The Gentlemen's Clubs of London' to a design partnership with the new Crescent Heights premier luxury residential high-rise, NEMA in San Francisco, Liza Evans' quintessentially London-influenced adeptness for blending old with new is reflected in her sophisticated approach to design and has been garnering great attention. Liza draws upon the principals of psychology, feng shui and the science of good design to craft her clients' personal lifestyle and experiences by creating living spaces as unique and dynamic as the people and personalities that call them home.
As Liza Evans ushers in the holiday season in San Francisco, she is thrilled to announce her participation in this year's Jingle n' Mingle designer wreath auction that benefits Children of Shelters.
"The spirit of creating is so closely tied to the spirit of giving, and the holiday season is always an opportunity to celebrate both in ways that delight, inspire and give back to the community. I cannot think of a better way to give thanks to a wonderful year here in San Francisco and welcome in the new one with anticipation and excitement, embracing design and philanthropy. The Jingle n' Mingle event is such a unique opportunity to participate in celebrating Children of Shelters and the young people that are the future of this wonderful city. We believe it's a truly life enhancing organization to everyone it touches."
The highly anticipated Jingle and Mingle event will to be held on December 5th, 2013 at 6:30PM at the Golden Gate Club in the Presidio. Considered one of the most festive fundraisers of the season, Jingle n' Mingle is known for bringing out a unique mix of socialites, local celebrities and the fashionable set for a night of exciting auctions and festivities for a cause, (with access to bid on some of the best holiday décor to deck their halls in town). All proceeds from the event will directly serve the needs of San Francisco's homeless children. Children of Shelter's goal is to provide San Francisco's homeless children with educational and cultural experiences to help tap into their own potential, spark their curiosity and personal power to break the cycle of poverty.
Liza Evans is thrilled to be among some of San Francisco's most celebrated designers for this year's wreath auction, including the incredible Ken Fulk, Jay Jeffers Design Group and metal sculptor Adam P. Gale, among others.
In the past, designers have flexed their creative muscles and provided bidders with the opportunity to take home works of art made with materials ranging from live foliage and steel, to mirrors and colorful light installations. Liza Evans Interiors will be contributing an original and British Inspired Christmas design in conjunction with Madina Aryeh Custom Sewing. Madina Aryeh graciously provided the custom fabric work that brought Liza Evans's festive creation to life.
While mixing n' mingling in between bidding for some of San Francisco's most coveted holiday wreath designs, guests will be treated to food and signature cocktails provided by McCalls Catering. Many additional corporate sponsors will also donate their time and talent to the event including award-winning Bay Area restaurants, dessert companies, wineries, breweries and spirit companies.
To learn more about Liza Evans, please visit http://www.LizaEvans.com. To learn more about Children of Shelters or to purchase tickets for the event, please visit http://www.childrenofshelters.org.