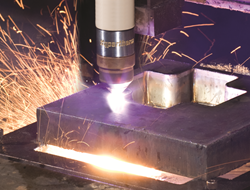 As a company, we realize we have to work doubly hard to maintain our small company values and culture as we've matured into a large company.
Hanover, New Hampshire (PRWEB) December 02, 2013
Hypertherm, a U.S. based manufacturer of advanced metal cutting systems, today announced its selection as the Best Large Company to Work For in the state of New Hampshire. This is the eleventh year Hypertherm has earned the "Best Company" honor, the most of any company in the state. Additionally, Hypertherm is the only company named to the Best Company to Work For Hall of Fame more than once.
Hypertherm's selection was made following an extensive evaluation process that included a review of the company's benefit packages, career development offerings, amenities, and culture. A panel of judges then conducted interviews with Hypertherm associates and managers, and toured the facilities.
In selecting Hypertherm, judges applauded Hypertherm's high rate of associate engagement, citing the company's no lay off policy, breadth of professional development programs, and practice of actively seeking employee input. Judges were also impressed with the range of offerings aimed at helping associates live a healthier life style, such as on-site gymnasiums, daily fitness classes, cafeterias with healthy eating options, and on-site medical clinics. Finally, judges liked Hypertherm's charitable giving program and commitment to giving all associates three days of paid time off to volunteer in the community.
"As a company, we realize we have to work doubly hard to maintain our small company values and culture as we've matured into a 'large' company," said Evan Smith, Hypertherm's president. "There's always more work to do to make and keep Hypertherm a great place to work for every associate, whether in New Hampshire or around the world."
The annual Best Companies list is sponsored by Business NH Magazine and New Hampshire Businesses for Social Responsibility. More information is available in the December issue of Business NH magazine.
Hypertherm designs and manufactures advanced cutting products for use in a variety of industries such as shipbuilding, manufacturing, and automotive repair. Its product line includes handheld and mechanized plasma systems and consumables, as well as fiber laser and waterjet products, in addition to CNC motion and height controls and CAM cutting software. Hypertherm systems are trusted for performance and reliability that result in increased productivity and profitability for hundreds of thousands of businesses. The New Hampshire based company's reputation for cutting innovation dates back more than 40 years, to 1968, with Hypertherm's invention of water injection plasma cutting. The associate owned company, consistently named one of the best places to work in America, has more than 1,300 associates along with operations and partner representation worldwide. Fine the company on the web at http://www.hypertherm.com.