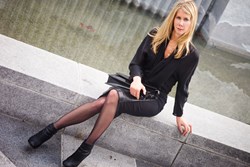 San Francisco (PRWEB) December 03, 2013
Jill Milan®, a provider of designer Italian handbags, today announced founder Jill Fraser will be a guest on the "Main Street Vegan" talk show Wednesday, December 4, speaking with host Victoria Moran. "Main Street Vegan" airs every Wednesday at noon Pacific Time and can be heard over Unity Online Radio at http://www.unity.fm. Ms. Fraser's segment is expected to begin at 12:10 p.m. PST.
The discussion is expected to touch on how Jill Milan entered the luxury fashion market with a collection of handbags free of animal-based materials. Ms. Fraser was inspired to found Jill Milan when she was unable to find high-quality, luxury handbags that were not made of leather or other animal-based materials. She is a supporter of animal welfare initiatives, and as a former equestrian particularly supports charities that benefit horses. Jill Milan was named 2013's Vegan Business of the Year by Vegans are Cool.
The Jill Milan collection of luxury handbags is entirely made in Italy, by Italian artisans using Italian materials. Features include hand stitching and metalwork handmade by craftsmen who create jewelry for Europe's leading luxury brands. All Jill Milan products are free of animal-based materials such as leather, fur and wool.
Jill Milan handbags have become a favorite of celebrities for red carpet events. Actress Amy Poehler carried Jill Milan to the Emmy Awards in September, and other celebrities carrying Jill Milan on the red carpet include two of February's Academy Award recipients – Anne Hathaway carried Jill Milan to premieres for her films "Les Miserables" and "The Dark Knight Rises," and Jennifer Lawrence carried Jill Milan to events leading up to January's Golden Globe Awards.
Jill Milan handbags have drawn increased attention from influential fashion media. W Magazine included the brand's new Octagon Clutch in the October issue's "Most Wanted" feature, and a recent Vogue.com feature on actress Kerry Washington's Emmy prep referenced Jill Milan among the mix of clutches the "Scandal" star chose from for the awards show. Bag Snob covered the Art Deco Clutch in a recent feature, and The Zoe Report recognized the Newbury Street Portfolio for its ability "to go from the office to cocktail hour."
Victoria Moran is a best-selling author, has appeared on "The Oprah Winfrey Show," and her work has been noted in USA Today, the Chicago Tribune, the Washington Post, Self, Elle, Glamour, Allure and O, the Oprah Magazine. She was named Vegan of the Year in 2012 and her talk show "Main Street Vegan" is a lively hour devoted to health, well-being and ways to live "lightly and lovingly on planet Earth." The show is available after the live broadcast as a podcast at http://www.unity.fm/program/mainstreetvegan and at iTunes at https://itunes.apple.com/podcast/main-street-vegan/id539511222?mt=2.
About Jill Milan
Jill Milan is a provider of luxury Italian handbags and fashion accessories. Made of exquisite materials, Jill Milan products are crafted in Italy by artisans who have created handbags and accessories for some of Europe's best known fashion houses. All Jill Milan products are free of animal-derived materials, and the company contributes to animal-welfare organizations. Jill Milan is the only luxury handbag line entirely free of animal-derived materials which regularly appears on Hollywood's red carpets. Visit Jill Milan on the Web and follow Jill Milan on Facebook.
Jill Milan and the Jill Milan logo are registered trademarks of Jill Milan LLC, and are protected by trademark laws of the United States and other countries. Academy Award is a registered trademark of the Academy of Motion Picture Arts and Sciences. All other product and company names are trademarks or registered trademarks of their respective companies.