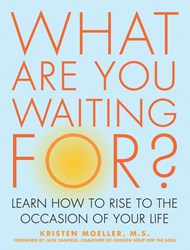 (PRWEB) December 03, 2013
Conversations Books Club president Cyrus Webb recently released his list of the top 50 Nonfiction Titles of 2013. Included in the list are several Viva Editions bestsellers. "This has been one of the greatest years for books," Cyrus Webb says. "I've been a reader all my life, and this year I saw authors sharing themselves and telling stories in a way that I know is going to inspire others around the world."
The list includes Always Look on the Bright Side by Allen Klein, What Are You Waiting For? by Kristen Moeller, Imperfect Spirituality by Polly Campbell, and Crafting Calm by Maggie Oman Shannon, all of which are also available as audiobooks through Audible.com..
Always Look on the Bright Side
Celebrating Each Day to the Fullest
By Allen Klein
We often think of celebrations as centering around special occasions—birthdays, anniversaries or other holidays. But why wait for those times when every single day contains moments of merriment? The very fact that you are alive in this wondrous world is reason enough to revel. That's just what this book is all about: over 500 suggestions for living life to the fullest.
What Are You Waiting For?
Learn How to Rise to the Occasion of Your Life
By Kristen Moeller
Are you waiting for your "real" life to kick in? Are you always busy making other plans while constantly striving to improve yourself? Through candid stories and insightful lessons, writer and self-proclaimed "self-help junkie" Kristen Moeller helps us explore the pervasive human tendency to wait as life goes by and to look outside ourselves for answers. Listen to the audiobook.
Imperfect Spirituality
Extraordinary Enlightenment for Ordinary People
By Polly Campbell
Pulling a raisin out of a two-year-old's nose probably wasn't on Buddha's path to enlightenment, but it was an aha! moment for author Polly Campbell. In Imperfect Spirituality, Campbell shows you how to integrate those everyday moments with traditional spiritual techniques to increase your personal growth and well-being.
Crafting Calm
Projects and Practices for Creativity and Contemplation
By Maggie Oman Shannon
In this wild and wired world, it is increasingly difficult to truly relax and find stillness within. Maggie Oman Shannon's Crafting Calm is a DIY guide to peace of mind, offering an abundance of ways you can achieve serenity and satisfaction by living the handmade life.