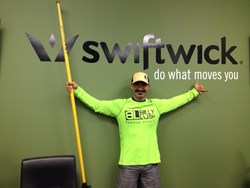 Brentwood, TN (PRWEB) December 03, 2013
Swiftwick, a leading American producer of athletic compression socks, is excited to announce sponsored athlete Shane Perrin is the first person to ever land paddle more than 300 miles. During his record-breaking paddle, Perrin donned his Swiftwick ASPIRE line TWELVE style knee high compression socks to conquer the historic 444-mile Natchez Trace parkway over the course of four days.
Land paddling requires the use of a longboard skateboard and a paddle with a rubber "foot". Paddlers use a paddle to propel across the pavement and can also use their feet for a push, much like a combination of stand-up paddle boarding and skateboarding.
"This was an untapped expedition that allowed me to push the boundaries of what was possible," said Perrin. "Expedition/Ultra Land paddling is a very new concept I'm pioneering. The challenge is there's no resource for what I'm doing, so I have a big learning curve, especially when it comes to how to take care of my body. Like any athlete, my equipment is extremely important. Relying on Swiftwick helped me keep my feet, legs and elbows, using Swiftwick's arm sleeves, fresh in order to land paddle further than anyone ever had before."
The Natchez Trace stretches from Natchez, Miss. to Nashville, Tenn. along a beautiful scenic route. Perrin pushed his body to the limit over hills and bridges stopping only for food, water and some sleep. Paddling 19 hours a day, he averaged more than 106 miles per day at just over 5 miles per hour, reaching an elevation of more than 23,400 feet. The ASPIRE socks provided Perrin with unmatched comfort and moisture management throughout his journey, ensuring his feet stayed blister-free. The thin, light-weight sock uses linked toe technology to form the perfect fit in any shoe.
"We were excited to partner with Shane for his monumental first attempt at land paddling the entire Natchez Trace," said Mark Cleveland, CEO of Swiftwick. "Shane is the epitome of a person who overcomes adversity. He is a 12-year kidney transplant recipient survivor, so it's vital that his lower legs and body stayed fresh and healthy during this journey. We're happy to celebrate his accomplishment and are proud he chose Swiftwick for his journey north."
Perrin has submitted his feat to the Guinness Book of World Records and hopes for its future inclusion.
About Swiftwick
Founded in 2008, Swiftwick is headquartered in Brentwood, Tenn. The company is a performance sock manufacturer that proudly employs an American workforce in high-quality textile manufacturing. Swiftwick is an innovator in designing and producing superior socks. The company has a culture focused on manufacturing through environmentally friendly means, social responsibility and leading customer service. Learn more at http://www.swiftwick.com.