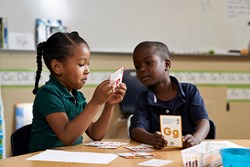 We believe this partnership with Trine University offers the collaboration and vision for a more innovative and comprehensive approach to education. – Principal Keith Marsh
Indianapolis, IN (PRWEB) December 03, 2013
Today, Imagine Schools and Trine University announced that effective July 1, 2014, Imagine Indianapolis West will operate under the authorization of Education One L.L.C., the charter school authorizing body of Trine University, for the fall of the 2014-2015 school year. Continuity for the 630 K-8 students and families is preserved in the agreement, but the contract creates an opportunity to expand grade levels and programming at this campus as it enters its fifth year of operations.
"We believe this partnership with Trine University offers the collaboration and vision for a more innovative and comprehensive approach to education," states Principal Keith Marsh. "Our agreement with Trine University gives us an opportunity to grow and expand, taking the next steps in our effort to prepare students for success in college and career."
Marsh cites Trine's emphasis on increased use of technology and a desire to expand the campus to include a high school program as examples of this innovation. He also references the frequent presence of Trine officials at the campus and their hands-on approach to authorization as a welcomed collaboration.
"We are grateful to Ball State University for the initial charter that allowed us to found Imagine Indianapolis West," continues Marsh, "but as we look to the future of our campus, we believe a partnership with Trine University better serves the educational objectives of our school."
Trine University points to a rigorous screening process and an alignment of educational objectives as the basis for granting the campus a charter. David Wood, Assistant Vice President and Managing Director of Charter School Operations, references discussions between university personnel and Imagine Schools that began more than a year ago. "The decision to charter this school is the result of careful and deliberate evaluation," explains Wood. "We spent a great deal of time analyzing past performance and also reviewing an academic plan that includes the use of data to target academic instruction and interventions and also the use of nationally recognized best practices," he continues.
Wood references the school's year-over-year improvement on I-STEP scores and the implementation of Imagine Schools' new Academic Excellence Framework as indicators of a sustained commitment to academic excellence. This framework includes strategies and tools for intensive instruction, deepening learning opportunities and strengthening academic growth for students. For Woods, it is evidence of a comprehensive school-wide commitment to educational innovation and one of the reasons Trine University chose to partner with Imagine Indianapolis West.
"Trine University is committed to innovation and excellence," explains Wood. "Throughout this process, we have seen the campus demonstrate a desire to expand technology and the learning opportunities it brings to students. We have witnessed excitement at expanding the school's program to include a technology-infused high school at the campus. There is a commitment to strategic growth that increases academic rigor, which aligns with our objectives for innovative education. We believe it is a partnership that is good for students and good for the community."
Open enrollment for the 2014-2015 school year begins March 3, 2014. A waiting list is already in place and families are encouraged to submit enrollment applications early. Learn more at http://www.imagineschoolsilsaw.com.
Education One, L.L.C. is the charter school authorizing body of Trine University. Education One is authorized by Trine University's board of trustees under Indiana Code § 20-24-3-14. Education One is a member of the National Association of Charter School Authorizers (NACSA). Education One's mission includes the authorization of schools that demonstrate strong potential to accelerate student success based on credible research and successful school models. Education One, L.L.C. conducts ongoing oversight and evaluation of its schools through an active partnership model that ensures the student's success is everyone's top priority.
Imagine Schools is a national family of 69 public charter schools educating more than 36,000 students in 11 states and the District of Columbia. Imagine Schools partners with parents and guardians to educate their children, providing high quality schools that prepare students for lives of leadership, accomplishment, and exemplary character. Learn more at http://www.discoverimagineschools.com.