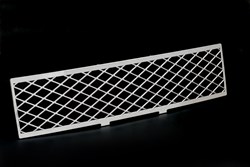 The Accesspeed Ford F-150 Grille is a result of our customers asking for a solution to the large gap in their front bumpers.
Valencia, CA (PRWEB) December 04, 2013
Consumer demand for aftermarket parts and accessories is on the rise and Valencia, California aftermarket specialist Accesspeed is 'Filling the Gap' in more ways than one for Ford's F-150 truck with their new F-150 EcoBoost Grille.
Accesspeed is proud to announce their new Lower Intercooler Protector Grille for 2011-2014 Ford F-150 EcoBoost Trucks. This lower grille fills the gap in the lower front bumper area, offering intercooler protection, higher airflow efficiency than other grilles on the market, and a stylish appearance that completes the look of the truck.
"The new Accesspeed Ford F-150 Grille is a result of our F-150 customers asking for a solution to the large gap in their front bumpers. Filling the bumper gap is one benefit. However, when you consider the cost of replacing the virtually unprotected intercooler in the lower bumper opening, the Accesspeed Grille is a great investment as well," stated company COO Amy Weaver. "After testing several versions, we decided on a design that offers maximum air flow, with a style that compliments Ford's later-model Platinum and Limited OEM upper grilles."
Accesspeed stands behind their grille with a Lifetime Warranty, making this product perfect for Ford dealers to install on all F-150 EcoBoost Trucks, and a making it a must-have item to keep in-stock in their parts departments. Weaver added, "Ford Dealers that install these grilles on new F-150s on their lots are seeing more traffic over the F-150s without the grilles." Designed originally for the Ford F-150 EcoBoost models, the Accesspeed Grille is a direct bolt-on for all 2009-2014 Ford F-150 Trucks, excluding the SVT Raptor. Owners can easily install this item in just 2-3 minutes, with no-tools-required.
About Accesspeed
Accesspeed is a Ford F-150 Specialist Aftermarket Supplier. Like most enthusiast markets, aftermarket performance and accessory parts took a hit in 2008. While the recovery has been slow, there have been unique changes to the industry that many aftermarket retailers have ignored. Not Accesspeed. This company is capitalizing on the unique changes and turning consumer demand into new products. Unlike many other aftermarket companies, Accesspeed focuses on a select group of vehicles, which they know and understand from an owner-enthusiast standpoint. Thus, Accesspeed provides Ford F-150 customers – owners and dealers – with knowledgeable advice and the widest selection of high quality F-150 parts and accessories. For more information, visit http://www.accesspeed.com.
Accesspeed, Inc.
Tel. (661) 505-1190
Fax (661) 505-1190
http://www.accesspeed.com
info(at)accesspeed(dot)com