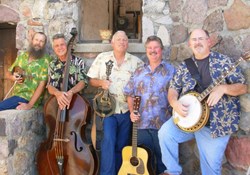 We believe in offering eclectic events every night of the week, and this Wednesday's line-up is a good example of what we do every day at Maker House.
Tucson, AZ (PRWEB) December 04, 2013
Things are hopping at Maker House this Wednesday, December 4th, as KCI presents The Titan Valley Warheads, Cirque Roots puts on a "New Circus" performance, and the public is invited to Open Hack/Open Craft.
The Corona Room will host KXCI's monthly concert series this month, which features the five-piece acoustic band The Titan Valley Warheads. Seating starts at 6:30 PM for a 7:00 PM show. Tickets are $8 for KXCI and Maker House members, $10 for general public. Seating is limited.Tickets can be purchased at KXCI, Maker House, or online at http://www.kxci.org. Maker House will have beer, wine and coffee specials running all night.
Before the KXCI concert, Cirque Roots will present a new circus performance with stilting, hooping, acrobatics and more in the Maker House courtyard. The event is free and open to the public, and runs from 5:45 PM to 7:00 PM.
Every Wednesday night, Maker House opens it's doors to the general public for an open hack/open craft night. Vanessa Ford, Executive Director of Maker House, describes the event, saying "Everyone and anyone is invited to bring in a project they are working on, start a new one, or come on down and join us as we hack on stuff around Maker House. We tackle everything from spray painting furniture with new techniques, to workshop organization, to robots and VW bugs, to quilting and beading and knitting. We can always use another set of hands to help with our projects, if you don't have one of your own."
More information about events at Maker House can be found at http://makerhouse.org/events/.