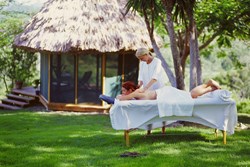 We want our guests to go away more fit, in tune with nature, educated about the ancient Maya culture we're surrounded by and, most of all, happy.
San Ignacio, Belize (PRWEB) December 04, 2013
The Lodge at Chaa Creek has announced a new all-inclusive Belize vacation package for 2014 that combines wellbeing and adventure with having a good time, according to food and beverage manager and assistant GM Bryony Fleming Bradley.
When announcing the all-inclusive package, Ms Fleming Bradley said that concept was derived from numerous guest comments over the years.
"People keep saying they feel so good when they leave, and ask us what the secret is. We realised that there really is no secret, just a combination of things we naturally do which we have now formalised into what we call our 'all-inclusive Belize Wellness package.'"
"By combining good food made with locally sourced ingredients, many of which we grow on our Maya organic farm, combined with professional spa treatments and daily exercise activities, we can assure guests who take part in this package that they will be leaving happier and healthier than when they arrived," she said.
"And by building in flexibility, we can ensure that everyone's needs and desires will be met. For example, some people may prefer more time horseback riding, or canoeing, or exploring ancient Maya cities where climbing the steep pyramid steps a few times in one day can present quite a challenge and great cardio workout.
"Other quests may wish more pool time and work calories off with a few laps before entering the Hilltop Spa for personalised and even couple's treatments."
"The point is, we provide a highly personalised, affordable all-inclusive Belize vacation that delivers results in a fun filled and interesting way," she said.
Ms Fleming Bradley explained that each guest will fill in a questionnaire prior to arrival, and will then meet with a staff member who will act as part of a personal coaching team. The all-inclusive vacation package will then be structured to specifically match each guest's fitness and, importantly, relaxation goals.
She explained that the team will be happy to work with individuals, couples, families and groups to ensure that everyone has quality time together while realising their health and holiday goals.
"With couples, for example, what could be more romantic and fun than taking part in a wellness adventure together? Imagine a canoe ride together with a healthy picnic. They'll see an amazing range of wildlife in an intimate adventure tailored to their own lifestyle."
"Or a horseback excursion to an ancient Maya temple, again, with a healthy picnic at their own pace and level of fitness, guided or self-guided as they see fit."
Mr Fleming Bradley said other options are excursions to ancient Maya temples and prehistoric metropolises and even surf and turf style "rainforest to reef" package holidays where they can divide their time between the rainforest, Maya archaeological sites and Caribbean sea adventures through Chaa Creek's sister resorts on Belize's Great Barrier Reef or Caribbean coastline and cayes, such as the famous Ambergris Caye.
"Chaa Creek's affordable all-inclusive Belize vacation packages include everything, and we do mean everything, for a complete Belizean holiday from the time we pick you up at the international airport until we drop you off. That means everything from accommodation, meals, activities and transfers are included in one set price, with no hidden costs or extra outlays," she said.
In addition to exquisite, healthy meals, the package includes the eco resort's signature cottage accommodation, guided nature and birding walks, visits to the Butterfly Farm, Natural History Centre and Rainforest Medicine Trail, canoeing on the Macal River, relaxing at the swimming pool and hiking the vast network of pristine jungle trails while exploring ancient Maya temple sites. A professional Hilltop Spa is also available for healthy pampering, Ms Fleming Bradley explained. "Our guests can do as much or as little as they wish," she said. Fresh, healthy food, Ms Fleming Bradley said, will also be integral to the experience. "Our award winning head Chef Mario Alejandro Mendez learned to cook in the kitchen of his Maya grandmother, so we naturally use a lot of local food and seasonings. But he is very health-conscious and considers concepts like food miles, so even his excellent Italian and other cuisine use Belizean mozzarella and locally farmed fruit, vegetables and meats, with great results. He shows that you don't need to compromise quality for the sake of health or the environment," she said.
Ms Fleming Bradley said her team has spent many hours developing an affordable all-inclusive Belize holiday package that is unique and effective while concentrating on the main reason people go on holiday – to relax and have fun.
"This is not one of those boot camp, high pressure health experiences. It fits in with Chaa Creek's philosophy of affordable casual luxury. We want our guests to go away more fit, in tune with nature, educated about the ancient Maya culture we're surrounded by and, most of all, happy.
"We want them looking forward to taking away what's special about our part of the world and coming back again," Ms Fleming Bradley said.
The Lodge at Chaa Creek is an award winning eco-resort set within a 365 acre private nature reserve in Belize.
ENDS