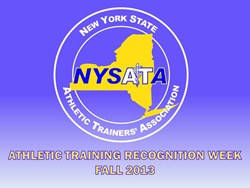 NYSATA extends their sincere appreciation to all NYS institutions that participated in the inaugural "Athletic Training Recognition Week"
Buffalo, NY (PRWEB) December 04, 2013
With the support and participation of athletic departments and sports organizations across New York State, including the Buffalo Bills, sports safety was brought to the forefront for ten days during the first-ever NYS "Athletic Training (AT) Recognition Week" earlier this fall. Various institutions helped demonstrate to their communities their efforts in providing quality sports healthcare for their athletes and stressed the importance of this issue for athletics at all levels of participation.
In addition to the Buffalo Bills organization, which made an announcement acknowledging the event and recognized their team athletic trainers (ATs) just before kick-off on November 3rd, over fifty NYS schools - scholastic and collegiate – provided some type of public awareness on sports safety. Many schools introduced and thanked their ATs during home athletic contests for their commitment and dedication in providing quality healthcare to their student-athletes. The Bills and some schools enhanced their public service announcements (PSAs) with graphics on the Jumbotron or scoreboard.
Aside from PSAs, other events included using social media to thank ATs (Hendrick Hudson HS, St. Francis College, Suffern HS, Tappan Zee HS) and run an AT-themed scavenger hunt (Yorktown HS), posting an AT-themed bulletin board (William Floyd HS), organizing an educational symposium – with attendance of fifty ATs and Athletic Training Students (ATSs) (Dominican College), hosting a concussion speaker, Ray Ciancaglini of The Second Impact (Canisius College), and even having their AT sing the National Anthem prior to a game (Nassau Community College).
With promotional assistance from collegiate athletic conference offices in NYS and high school administrators, including NYSPHSAA representatives, NYSATA distributed information and PSAs attempting to reach as many schools as possible for participation. Following the event, NYSATA has attempted to compile a registry of all institutions who participated so they could be properly recognized for their efforts.
A special thank-you to participating NYS Colleges/Universities and their corresponding Athletic Conferences: Binghamton University, College at Brockport (SUNY), SUNY Cortland, Daemen College, Dominican College, Erie Community College, Finger Lakes Community College, Houghton College, LIU Brooklyn, LIU Post, Marist College, Mercy College, Molloy College, Monroe Community College, Nassau Community College, SUNY Plattsburgh, St. Bonaventure University, St. Francis College, and St. John Fisher College.
A special thank-you to our participating NYS Scholastic/Secondary Schools and Districts: Bedford CSD, Brockport CSD, Central Islip UFSD and HS, Garden City HS, Harborfields HS, Hauppauge Schools, Hendrick Hudson District and HS, Kings Park CSD and HS, Our Lady of Lourdes HS, Queensbury UFSD, White Plains HS, West Irondequoit CSD and HS, William Floyd HS, Williamsville CSD and Williamsville South HS, Yorktown HS, and NYSPHSAA Section VI.
If your institution participated in the Fall 2013 "AT Recognition Week" and isn't listed we want to know – and thank you! Please add your info to update our registry at: AT Recognition Week Survey.
In the name of sports safety, NYSATA would also like to take this opportunity to congratulate Yorktown High School as the first school in NYS to be awarded the NATA's Safe Sports School distinction. The NATA gives this honor to recognize secondary schools that take steps to keep their athletes free from injuries, including following established health care safety guidelines, utilizing and maintaining proper equipment, and providing appropriate medical personnel for student-athletes. Congratulations to Yorktown High School Athletics and athletic trainer, Dave Byrnes, MS, ATC!
It is the hope of NYSATA that "AT Recognition Week" in NYS can become an annual event, growing each year. By developing a sports safety awareness campaign in the fall to compliment the efforts of National Athletic Training Month (NATM) annually in March – and with programs such as the NATA's Safe Sports School, the message will carry throughout the year. For more information on any of these events, or to offer support, information, or suggestions for promotion, please contact NYSATA at: pr@gonysata2.org.
The initiative to encourage public awareness about the need for sports safety should help school officials, coaches, parents and others involved with sports at all levels – from youth to high school to collegiate and beyond – understand the vital need to provide appropriate medical care for their athletes. While many higher levels of sport, including professional and collegiate, employ athletic trainers, less than 42-percent of public high schools in NYS have access to an AT – and at most levels, including collegiate, the ratio of ATs to student-athletes and/or sports teams is lower than recommended. With the growing number of students participating in sports and the high incidence of athletic injuries, including concussion, it is critical that schools provide suitable injury management support just as they provide coaching support.
Athletic trainers have expertise in the assessment, emergency management, rehabilitation and prevention of acute and chronic sport-related injuries, illnesses and conditions, including concussions. They can be valuable resources and school districts, including boards, administrators, teachers, and PTAs, those involved in sport-related activities, and other associated medical and healthcare providers should look to their AT and NYSATA for consultation and assistance with health and safety issues related to athletics.
NYSATA, founded in 1976 and incorporated in 1989, stands to advance, encourage and improve the profession of athletic training (AT) by developing the common interests of its membership for the purpose of enhancing the quality of healthcare for the physically active in NYS. Comprised of over 1,200 certified and practicing athletic trainers, NYSATA is the state-wide affiliate of the regional Eastern Athletic Trainers' Association (EATA) and District Two of the National Athletic Trainers' Association (NATA).