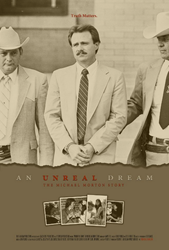 Our procedure has been always haunted by the ghost of the innocent man convicted. It is an unreal dream. - Justice Learned Hand, 1923
Houston, TX (PRWEB) December 03, 2013
Robert Earl Keen, Jimmy LaFave, Jerry Jeff Walker, Slaid Cleaves and others are featured on the soundtrack to the stunning documentary – "An Unreal Dream: The Michael Morton Story" – set for release Dec. 3 to coincide with the CNN premier of the film on Dec. 5.
The album features 20 newly recorded tracks, all of which are featured in or inspired by the documentary. The talented Americana artists, all of whom are from Texas, who contributed to the soundtrack include: Robert Earl Keen, Slaid Cleaves & Eliza Gilkyson, Jerry Jeff Walker, Tina Wilkins & Jimmy LaFave, Chuck Pinnell and Rich Brotherton.
The film, which premiers on CNN on Dec. 5 at 9:00 pm, won the Documentary Spotlight Audience Award at SXSW 2013, Best Documentary at Victoria TX Independent Film Festival 2013 and was an Official Selection of the 2013 Human Rights Watch Film Festival in New York City.
You can check out a video for the song "Whispering Hope" here: http://www.youtube.com/watch?v=umwRJFZ7n_M&feature=youtu.be.
The soundtrack was produced by Chuck Pinnell and Rich Brotherton who commented: "We were delighted to be asked to contribute music to help tell this very important story. We are even more pleased to present the soundtrack along with related songs from some of Texas' best singers."
Adds Denby Auble, Blue Corn label President, "Blue Corn is very excited to release the soundtrack to this compelling documentary. So many talented musicians contributed to this important project, and we're pleased that a portion of the proceeds will be donated to The Innocence Project in support of their work in pursuit of justice as exemplified within the film."
The soundtrack list is as follows:
1. Opening
2. Christine
3. In The Pines (PD vocals, Slaid Cleaves & Eliza Gilkyson)
4. Ambush
5. Conviction
6. Belly of the Beast
7. Midnight Special (PD vocal, Rich Brotherton)
8. Last Goodbye
9. Ramsey Unit Stomp
10. Epiphany
11. Take This Hammer (PD vocal, Robert Earl Keen)
12. At Last Truth
13. Monsters
14. Transcendence 1
15. Amazing Grace (PD vocal, Jerry Jeff Walker)
16. Freedom
17. An Evil Place
18. Transcendence 2
19. Reunion
20. Whispering Hope (PD vocal Tina Wilkins & Jimmy LaFave)
The soundtrack can be pre-ordered here: https://itunes.apple.com/us/album/unreal-dream-michael-morton/id750734267?ls=1.
ABOUT AN UNREAL DREAM: THE MICHAEL MORTON STORY:
Directed by Al Reinert, AN UNREAL DREAM portrays the harrowing true tale of Michael Morton. Wrongly convicted of the brutal murder of his young wife, Morton spends a quarter century in the Texas prison system, cut off from his only child, who believed him to be guilty of destroying their family. In collaboration with his pro bono counsel and the Innocence Project, Morton proves his innocence through the use of DNA testing and in the process brings to light the plight of unjust imprisonments in the United States.
For more information on the "An Unreal Dream" soundtrack album, please contact Sue Schrader (SueS(at)BlondeAmbitionPR(dot)com) at Blonde Ambition PR, 262-377-4180.