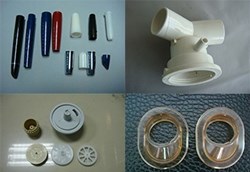 (PRWEB) December 03, 2013
Recently, Wuxi Glory Plastics, an experienced plastic product company based in China, has announced that it started to offer custom plastic parts. On its website, worldwide customers can order several kinds of plastic parts according to their needs, including molded insert parts, appliance housings, auto parts, gears, stoppers, tiny precision electronic parts and more.
Known for its professional plastic product service, Wuxi Glory Plastics is now a famous brand in the global market. Now, customers from every part of the world can get what they actually need without any extra cost.
"Nowadays, the demand for plastic parts is very great. And, different customers usually have different requirements. As a response to this reality, we decided to offer custom items to better serve the international customers." The CEO of the company says, "Our rich experience enables us to make specific products to meet the exact needs of clients. Welcome to visit our website to learn more details."
All the products from the company feature good shapes and fine materials. The company has promised that each of its items is supreme quality. That is why Wuxi Glory Plastics have won a great admiration and is widely trusted in the international market.
About Wuxi Glory
Wuxi Glory specializes in developing and manufacturing of custom molded plastic product by taking advantages of the relatively low labor costs in China. It has most experienced workers in China. If you're looking for product design, engineering, prototyping, and mass production, Glory plastics can always find a solution for you. For more about our products and services, please visit: http://www.plastics-molding.com.