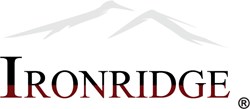 Los Angeles, CA (PRWEB) December 03, 2013
Ironridge Global Partners, LLC, an institutional investor making direct equity investments in micro-cap public companies, will meet senior management teams of attending companies and other leading professionals at the 6th Annual LD Micro Conference on December 3-5th, 2013. The conference is being held at The Luxe Hotel at 11461 Sunset Boulevard Los Angeles, CA 90049.
"As an active investor in the micro-cap public markets, we are excited to be invited to the LD Micro event with over 230 presenting companies," commented Brendan T. O'Neil, CFA and Managing Director of Ironridge Global Partners. "Chris Lahiji and his team have done a remarkable job over the last 5 years making this one of the premier platforms where microcap companies can present their story to investors. It is a tremendous opportunity to meet and conduct due diligence on a large number of already vetted companies in a time efficient manner."
This year's event will feature management presentations from the attending companies, panel discussions focusing on best ideas in the microcap space along with many networking opportunities.
About Ironridge Global Partners
Ironridge Global Partners, LLC is an institutional investor, making direct equity investments in micro-cap public companies. Its Liability for Equity (LIFE™) program allows public companies to satisfy trade payables, debts and other liabilities in exchange for unregistered common stock utilizing a Section 3(a)(10) fairness hearing. Ironridge Global is the industry leader in this innovative financing structure, which substantially reduces the transactional costs and time necessary to complete a deal. The fund has entered into more than 50 equity financing transactions since 2011, ranging from under a quarter million to over $15 million each. Ironridge Global seeks to be a long-term financial partner, assisting public companies in financing growth and expansion by supplying innovative funding solutions and flexible capital. For more information on Ironridge Global Partners, please visit http://www.ironridgeglobal.com
About LD Micro
LD Micro is a by-invitation only newsletter firm that focuses on finding undervalued companies in the micro-cap space. Since 2002, the firm has published an annual list of recommended stocks as well as comprehensive reports on select companies throughout the year. LD Micro concentrates on finding, researching, and investing in companies that are overlooked by institutional investors. For more information on LD Micro, visit http://www.ldmicro.com
Contact:
Ironridge Global Partners, LLC
Brendan T. O'Neil, CFA – Managing Director
415-658-9545
boneil@ironridgeglobal.com