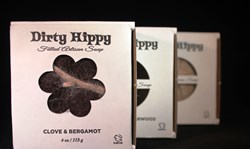 Dirty Hippy Soapworks started out as some fun with an old friend, felting my organic soap with her alpaca. But customer response has been terrific, so we are launching this as a separate brand: Dirty Hippy Soapworks. - Sandra Klein, CEO
Half Moon Bay, CA (PRWEB) December 09, 2013
The name generates a lot of chuckles from those who see the packaging at Farmers market or boutique for the first time, but Route One Pumpkins' new line of felted soap is serious about quality.
Most felted soap is a combination of common drug-store soap in sheep or other wool clothing, with visual appeal but not nourishing for the skin. Now, there is the Dirty Hippy, soap made with nurturing organic oils wrapped in silky-soft, natural alpaca wool. Alpaca is naturally antimicrobial and water resistant, so it will dry quickly if left in a dry corner of bath or shower. The felted soap is similar to having a built-in washcloth and appeals to a wide range of people; from those with mobility challenges, because they can hold on to it more securely, to children, to people who like the light scrub and exfoliation. And, it's great for travelers or backpackers, too.
Like all Route One Pumpkins formulas, the soap is made with organic, food-grade vegetable oils and scented with essential oils like lavender, cedarwood, rosemary, peppermint, eucalyptus, bergamot, clove, etc.
Available at RouteOnePumpkins.com, DirtyHippySoapworks.com, Chikken Revolution and Ma'sGreenLiving.com.
Certified Cruelty-free by Leaping Bunny. (No harm comes to these happy, free ranging Alpacas, Bug and Geoff, who need to be sheared annually). The alpaca is hand carded, dyed (or left in natural color) and felted.