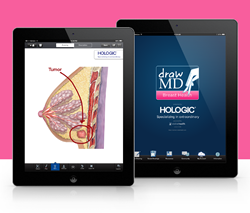 Partnering with Visible Health to support this tool will help empower breast health professionals to enhance patient communication at the point of care.
Austin, TX (PRWEB) December 11, 2013
Visible Health announced today another collaboration with Hologic, Inc. to launch drawMD Breast Health, a free mobile application that provides breast health professionals with a powerful, proven tool for patient education. Like the other drawMD apps, drawMD Breast Health allows clinicians to create visual images that can be used to guide conversations about medical and surgical conditions and procedures with their patients. Along with a wealth of breast health-specific drawing templates the app also includes a patient education resource center, a new feature for the drawMD platform, with an array of resources provided by Hologic.
"Our Company is passionate about women's health and committed to providing powerful technologies for screening, diagnosing and treating breast cancer," said Hologic Vice President of Breast and Skeletal Health Marketing Jon Gingrich. "Partnering with Visible Health to support this tool will help empower breast health professionals to enhance patient communication at the point of care, and we think there is huge value in that."
With over 425,000 App Store downloads and hailed as a "must-have" iPad app for physicians, drawMD is one of the top apps used by medical professionals at the point of care. The Breast Health edition - the 14th in the series - provides clinicians with the necessary tools to educate patients on breast anatomy and benign conditions, breast cancer, breast biopsy, surgical interventions, radiation oncology, reconstructive surgery, and much more.
One out of eight women will be diagnosed with breast cancer in their lifetime according to the National Breast Cancer Foundation (reference). It is also the second leading cause of death among women. One disease progression combatant that can increase survival is early detection. "Early detection helps save thousands of lives each year," said Jon Gingrich. "Educating women about breast health, and building awareness, helps clinicians find diseases earlier, and treat them sooner, so every woman has a fighting chance." According to the Susan G. Komen Advocacy Alliance, the 5-year survival rate is 98% when breast cancer is detected early (reference). Education to promote awareness, screening, and treatment options is the foundation of early detection. drawMD offers breast health professionals a mobile and interactive tool to provide this foundation.
"We are very proud to present the drawMD Breast Health app, and even more so to present it alongside Hologic," said Visible Health CEO John Cox. "This is our second collaboration, with the first being on the very popular drawMD OB/GYN app. By providing support to make drawMD Breast Health available to the clinical community, Hologic underscores their commitment to women and their health."
drawMD Breast Health, like other drawMD apps, is available now for the iPad free of charge through the Apple App Store.
drawMD Breast Health on the App Store in iTunes
About Visible Health
Visible Health is partnering with leading healthcare product companies, institutions and organizations to make digital tools for collaborative, condition-specific patient education, patient safety and care planning available to clinical providers and their patients. Visible Health was conceived and launched by Harvard Medical School classmates Todd Morgan and Alexander Kutikov, along with technology expert John Cox, and is headquartered in Austin, Texas. For more information please visit us at http://www.visiblehealth.com.
About Hologic, Inc.
Hologic, Inc. is a leading developer, manufacturer and supplier of premium diagnostic products, medical imaging systems and surgical products, with an emphasis on serving the healthcare needs of women. The Company operates four core business units focused on breast health, diagnostics, GYN surgical, and skeletal health. With a comprehensive suite of technologies and a robust research and development program, Hologic is committed to improving lives. The Company is headquartered in Massachusetts. Learn more about Hologic, Inc. at http://www.hologic.com.