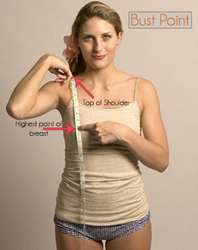 I didn't become smarter, funnier, or more genuine as I lost weight, nor did my perceived body shape change. We women, base our worth on our size, when size, itself, is arbitrary.
Galveston, TX (PRWEB) December 03, 2013
The holidays are bustling with women planning ways to lose the "holiday pounds" they'll pack on this season. According to some sources, North Americans gain an average of 7-10 pounds over the holidays, but is this statistic actually a fact? Fluid Sunwear started asking tough questions, like this one, demanding to know why women rely on weight loss as a reason their clothing doesn't look like it does in glitzy ads and on star struck bodies. Are women simply too fat for the fashion of the day?
Women beat themselves up trying to look as good in fashion as other women. The majority of fashion bloggers agree; buying straight off the rack is not how to get flattering fit. Ready to wear clothing sometimes needs to be tailored to get the right fit because true fit comes from customizing clothing to an individual body – a fashion trick most celebrities pull out of their sleeves after every garment purchase, yet the general public is unaware of this fact.
Fluid started its search for answers over eight years ago when, President, Megan Turnbow, became so frustrated with her body she started seeking answers anywhere she could find them. She was determined to learn why her body was different from everyone else's and why she didn't fit into the clothing she wanted to wear. This issue bothered Turnbow so much; she built a company around the crusade –effectively creating a revolution based on teaching women, "It isn't you – it's your clothes".
Size, however, does not discriminate. This is not a fat vs. skinny issue. "We get it. It's more efficient to create ready to wear garments, it's cost effective and, for a percentage of the population, the system works," says Ellis Dixon, Fluid's Head Designer when talking about the way the fashion industry creates clothing for the masses. Although creating mass produced garments is a money saver to the industry, it affects women in ways most people never realize. It makes women think their bodies need to conform to the garment vs. creating garments that cater to their bodies, individually.
According to Travis Saunders, Phd, MSc, CEP, in his article titled "The Truth About Holiday Weight Gain", if the average person is gaining 7-10 pounds per holiday season, this means some people are gaining significantly larger amounts of weight, a feat for most individuals during the weeks between Thanksgiving and New Years. If this statistic was actually true, it would mean that the US weight gain, over the holidays alone, would amass to roughly three billion pounds per year.
Fluid's determination to find a solution to the problem only created more questions. Are women's bodies causing all this chaos? Could it be that women are programmed to believe they need to be a smaller size, refusing to buy the right size for their bodies? Is it really all their fault? Every answer led Fluid staffers deeper down the rabbit hole; begging the question all the way down – what is a size anyway and why does it matter so much to women?
"I have been a size 6 and a 16 – but when I look in the mirror, I see the same person, regardless of my size," continues Turnbow, "I didn't become smarter, funnier, or more genuine as I lost weight, nor did my perceived body shape change. We women, base our worth on our size, when size, itself, is arbitrary. I want all women to know what I discovered – it's not your body – it's your clothes. The reason nothing fits is because it wasn't made to fit you, it was made to fit the general population, as a whole."
As Saunders points out, The New England Journal of Medicine concludes that the average holiday weight gain is right around 1.05 pounds, between mid-November and mid-January. Certainly one pound isn't worth all this hassle and stress – stress is a contributing factor to weight gain. However, this study does show how distorted perceptions are when it comes to body image and size ratios.
Not only are the extent of holiday pounds perceived, but so is the 'size' women think they should maintain. "There are several options to creating an individually appealing look for every woman and losing weight should not be one of them. Granted, women who are within unhealthy weight ranges should look into healthy alternatives, but diets, crazes and all this fretting is not going to get women any closer to the solution," states Dixon. Women of all shapes, dimensions and personalities should know that getting back to fashion's roots is imperative to showing women how beautiful they are, even if they gain 1.05 pounds this holiday season.
Fluid Sunwear has reinvented swimwear by crafting luxurious Made-to-Measure swimwear for women. Each piece is molded to a client's body to ensure the proper placement, proportions, and fit for every woman offering each client the opportunity to reveal with confidence, indulge in style, and feel beautiful.
Fluid's full line of swimwear is sold exclusively online and via mobile web at http://fluidsunwear.com/.
For more information please visit: http://www.fluidsunwear.com.
Fluid Videos
Watch Fluid's video on the sexiest gift for the holiday season - http://www.youtube.com/watch?v=gA4zEEAHZyI&feature=youtu.be
To view a video about Fluid Sunwear and its mission visit http://www.youtube.com/watch?v=3ihPdtQ1_K0.
About Fluid Sunwear
Established in 2013, Fluid Sunwear is a clothing line specializing in women's made-to-measure luxury swimwear and ready-to-wear designer sunwear. Fluid takes luxury swimwear to the next level, offering women indulgent style, pure extravagance and timeless beauty; an experience not currently available through any other swimwear line. For more information, contact Fluid Sunwear via e-mail at info@fluidsunwear.com, or telephone number: 409.974.7017.