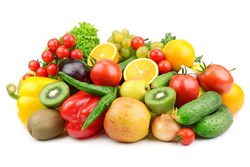 Choosing fresh seasonal vegetables and fruits home-grown in the UK, instead of looking at imported goods is also a wise why to save while staying healthy.
London (PRWEB UK) 6 December 2013
In this report the IFS estimated real food spending, taking the money spent on consumer goods, divided by the price of a basket of food, beverages and consumer services purchased by households. They also evaluated the nutritional quality of the purchased food according to the healthy eating index and the nutrient profiling models already in place by the NHS. (1)
Kate Smith, one of the researchers at the IFS, who helped author this report, said that a majority of households within the UK have cut their real food spending by 8.5% on average, thus reducing the amount of calories bought and spending less per calorie overall. To further understand this trend, the households that have bought 3.6% fewer calories, switching to cheaper calories, are now spending 5.2% less per calorie. (2)
At the same time, she noted, the nutritional quality of the food purchased, dramatically decreased. This suggests that although people may be eating less per calorie, the kind of food they are eating tends to be of a poorer quality compared with their previous diet.
Households with young children, single-parent households and pensioners were the hardest hit, commonly sacrificing nutritional quality of food as food budgets are cut and switching from fresh fruit and vegetable purchases to increased processed foods. One shift to healthier food products appeared within some food types however, as the average saturated fat content of processed food fell. (3)
Superintendent Pharmacist at Chemist Direct, Omar El-Gohary offers this advice:
"With the continued shift in personal incomes households have responded to higher food prices by switching to processed foods as a cheaper option. By moving away from eating fresh fruit and vegetables however, the nutritional quality of foods purchased has fallen considerably. As a result, the average saturated fat and sugar content of food purchases has shown an increase over the last few years leading to increased health issues and obesity.
"It may seem like processed foods are your only affordable option at the moment, but it is still possible to eat a healthy diet on a budget by planning ahead and choosing carefully at your local supermarket. Consider making your own meals as opposed to the ready-made variety, it is especially cost efficient when cooking for a household. Purchasing items with a shelf line that is almost due is a good place to start when looking for cost efficient yet healthier options.
"A handy tip to remember is taking advantage of two-for-one offers on items that store well, such as wholegrain pasta, rice, and cereals, or tins of pulses or vegetables like tomatoes. Choosing fresh seasonal vegetables and fruits home-grown in the UK, instead of looking at imported goods is also a wise why to save while staying healthy."
References:
1. http://www.nhs.uk/news/2013/11November/Pages/Recession-may-lead-to-unhealthy-diet.aspx
2. http://www.ifs.org.uk/publications/showSubProjects/subheading/102
3. http://www.thetimes.co.uk/tto/health/news/article3912219.ece