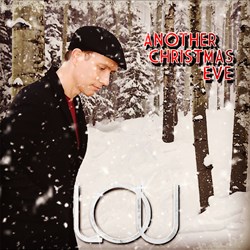 Los Angeles, CA (PRWEB) December 03, 2013
With the impressive career momentum of eighteen years in music, 4 million records sold worldwide, a hefty social media presence (22,000 followers on Twitter/11,617 likes on Facebook/8,000 fans on Myspace)…all culminating in the very successful release of his 2012 Esoteric: The Best of LOU collection, Cornerworld Records' own recording artist-composer-musician-producer LOU takes a stylistic break from his already eclectic musical output (everything from adult-pop to electronica-dance) for his first-ever, holiday-themed excursion with the oh-so-serene, recently released Another Christmas Eve EP release (digitally available worldwide on iTunes, Amazon and other major digital music stores; physical product now available worldwide on Amazon).
"Where I am in my life and musical career, this seemed like the perfect time," LOU says of the temporary, yuletide-themed stylistic switch. "Christmas has always been a special time of year for me, and I've always wanted to work on a holiday record." With that said, Another Christmas Eve instantly weaves its musical holiday magic, seamlessly breezing from the heartwarming keys of the atmospheric and soothing title track and the dreamy, hypnotic New Age flow of "A Christmas Wish," to the pristine, ethereal production of his faithful rendering of the standard "Silent Night." Rounding out the intimate-sounding and tasteful collection is the steady-jingling, mood-inducing flow of the Candlelight Mix of "Another Christmas Eve."
Hence, as friends, fans and followers do everything from wrapping gifts and adorning their trees with sentimental ornaments to the sounds of his Another Christmas Eve, LOU gears up for intimate promotional performances in support of the EP release while continuing work on his next full-length release (due in 2014). One such performance (though not exactly "intimate") includes his performance this past weekend (11/23) in front of a hometown Boston audience of 50,000-strong at the 2nd annual "Blink! A Light & Sound Extravaganza" (also known as the Faneuil Hall Tree Lighting Spectacular). Already known for its spectacle of 350,000 LED lights illuminating the Boston skyline (synced to the sounds of the Holiday Pops), the Boston Globe/CBS-sponsored event featured LOU's performance of material from Another Christmas Eve, as well as performances by Paula Cole and the Tanglewood Festival Chorus (conducted by Boston Pops' Keith Lockhart) at Faneuil Hall Marketplace. While tracks from the aurally eloquent, oh-so-appropriate holiday project are sure to make it onto a variety of Christmas playlists, already officially on board is multi-platform video/music network Music Choice. Available to millions nationwide via their televisions, the network's "Sound of the Season" channel has already added LOU's "Silent Night" to the continuous playlist (as of the week of 11/12).
A native of Boston, LOU's instinctual love of music from an early age resulted in his being a self-taught keyboardist (but for a few lessons when he was a kid). Having always gravitated towards music, LOU's formative years were spent doing everything from demo work for other artists (in the early 90s) to working on various film/TV projects, until he was signed to his first record deal. Amidst his own steady musical output over the years (he has amassed nine releases), LOU co-wrote/produced/performed keyboards on "I Want To Be Loved" with '80s rock diva Lita Ford (an unearthed '90s demo which has become a fan favorite) and scored his own popular singles (i.e., "Only You" and "Dream3").
Official Site - http://www.louonline.com
Official Facebook - facebook.com/lou
Official Twitter - twitter.com/lou
Official Myspace - myspace.com/lou
Official Google+ - google.com/+lou
Official Tumblr - lou.tumblr.com
Official Instagram - instagram.com/louonline
LOU's entire music catalog can be found on digital music stores worldwide including iTunes. Physical releases are available on amazon.com.
Official iTunes - http://itunes.com/lou