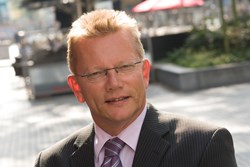 Topics including waste management and sustainable growing are being covered and I am looking forward to hearing about some of the actions that are being taken at a corporate and legislative level."
(PRWEB UK) 3 December 2013
On 3-4 December 2013 the 8th National Food Safety and Quality Summit will take place in New Delhi. The objective of the event is to help build Collaboration for Co-Production of Food Safety and Quality throughout the Food Value Chain for the benefit of End Consumer and Waste Reduction for a sustainable and viable food chain. The Summit is organised by the CII (Confederation of Indian Industry) and FACE (Food and Agricultural Centre of Excellence).
LRQA is attending this event and Cor Groenveld, LRQA Global Head of Food Supply Chain Services and Chairman of the Foundation for Food Safety Certification will speak on December 3rd about 'International Developments in Food Safety Standards and Certification'. This event is seen as one of the major food events in India with attendees and speakers representing stakeholders from across the food supply chain stakeholders including manufacturers, retailers, food service companies, government, certification bodies and academia.
"It's a year ago since I was last in India and then I witnessed the rapidly growing commitment of, and efforts made, by the food sector to ensure a safe and sustainable food supply chain," said Groenveld. Evidence can be seen in the growing number of certifications to Global Food Safety Initiative (GFSI)-recognised standards or schemes. "One such scheme is FSSC 22000 – the complete food safety management system certification scheme," explained Groenveld. "Since its comparatively recent launch there are now over 6000 certificates globally, with 6% being held in India – the third largest market worldwide."
But there is still a lot to do; India has the fastest growing population in the world so making sure that there is safe and sustainable food available for everyone is critical. As a result, events like the CII-FACE Food Safety and Quality Summit have an important role to play in driving collaboration across the global food supply chain stakeholders in order to achieve this.
"I am also delighted to see that sustainability is high on the agenda," said Groenveld. "Topics including waste management and sustainable growing are being covered over the upcoming couple of days and I am looking forward to hearing about some of the actions that are being taken at a corporate and legislative level."
Retailers and food manufacturers are increasingly applying a risk-based management systems approach across all of their sites and suppliers, helping them drive sustainability and food safety across their global supply chains.
Keep watching our channels for live event updates as well as blogs from our LRQA India Food Safety Expert Niraj Raje as we move towards and after the event itself. For further information about our food services, please visit http://www.food.lrqa.com or http://www.lrqa.in. Alternatively, please email enquiries(at)lrqa(dot)com.