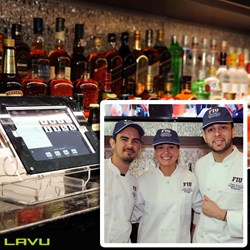 "The most exciting part of this whole project is the technology," said Mike Hampton, dean of the Chaplin School of Hospitality & Tourism Management
Albuquerque, NM (PRWEB) December 03, 2013
Students of Florida International University are now training with the latest innovative technologies, complete with actual real-world business applications. For business management studies, students are training with a revolutionary cloud-based restaurant management program called Lavu iPad POS.
Facilities at FIU also include an advanced food production lab as well as a brewing science lab to further enhance the students' specialized training. The management lab boasts an extensive AV camera system to let teachers monitor their students' progress remotely, allowing events to be streamed live throughout the world.
"The most exciting part of this whole project is the technology," said Mike Hampton, dean of the Chaplin School of Hospitality & Tourism Management. The iPad point of sale system by Lavu Inc. is included as a teaching tool to make transitioning into the real world easier. "The lab allows students to model the real world with all the latest equipment," said Hampton.
"I'm hoping to learn every single aspect of owning a restaurant," said sophomore Leira Fombrun, who hopes to own her own restaurant someday. "We're not just going to learn how to manage a restaurant but learn what goes on in the kitchen."
"We are preparing our students to manage high-end facilities. This lab will give them the tools they need to work at world-renowned restaurants, hotels or their own business," said Lazaro Gonzalez, the marketing representative for the school.
Director of Information Technology for the Chaplin School of Hospitality & Tourism Management Dale Gomez said of the project, "Lavu Inc. generously donated the point of sale software and licenses to the Chaplin School of Hospitality & Tourism Management. This feature alone will make a huge difference in the teaching pedagogy of restaurant and food service management. Students will now have the ability to train on state-of-the-art systems that are far superior to the traditional point of sale systems in the market today, thanks to Lavu Inc."
FIU's hospitality program is consistently rated one of the best in the nation. The North Miami campus has more than 1,500 undergraduate and graduate students enrolled, and the port city of Tianjin, China's campus has more than 1,000 students attending. Enrollment is thriving because of the school's commitment to prepare future hospitality leaders.
"We obsess about our students," said FIU president Mark Rosenberg. "We want to make it better for them so they'll make it better for others. The hospitality industry clearly looks to us and looks to our students."
Lavu Inc. CEO Andy Lim stated that Lavu strives to give back to the community, and is happy to assist other educational programs that want to include Lavu iPad POS in their curriculum. "Any graduate from this FIU program who chooses to use Lavu POS in their business can get the software license at half price," Lim said, adding that he hopes FIU is the first of many university programs to embrace the iPad POS system from Lavu Inc.
About Lavu Inc.
Founded in Albuquerque, NM, and operating worldwide, Lavu Inc. was formed as a solution to common point of sale problems and restaurant industry issues. Lavu Inc. offers POS Lavu as a full-featured point of sale software solution at a fair price. Through cloud computing, wireless mobility, and multi-touch devices, POS Lavu redefines the entire approach to restaurant business management.