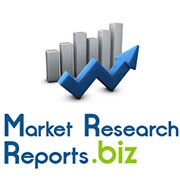 Albany, NY (PRWEB) December 03, 2013
Global Non-lethal Weapons Market 2014-201
Global Non-lethal Weapons market to grow at a CAGR of 5.22 percent over the period 2013-2018. One of the key factors contributing to this market growth is the increase in global defense budget. The Global Non-lethal Weapons market has also been witnessing the increase in R&D. However, the increase in raw material prices could pose a challenge to the growth of this market.
To check out the complete table of contents, visit: http://www.marketresearchreports.biz/analysis-details/global-non-lethal-weapons-market-2014-2018.
Global Non-lethal Weapons Market 2014-2018, has been prepared based on an in-depth market analysis with inputs from industry experts. The report covers the Americas, and the EMEA and APAC regions; it also covers the Global Non-lethal Weapons market landscape and its growth prospects in the coming years. The report also includes a discussion of the key vendors operating in this market.
The key vendors dominating this market space are BAE Systems plc, Condor Non-Lethal Technologies, General Dynamics Corp., Non-Lethal Technologies Inc., and The Safariland Group.
Other vendors mentioned in the report are Brügger & Thomet AG, Lamperd Less Lethal, Inc., Metal Storm Ltd., Qinetiq Group plc, Raytheon Co., TASER International, Inc., and Textron Defense Systems.
Click Here To Download Detail Report: http://www.marketresearchreports.biz/sample/sample/180020
Key questions answered in this report:

What will the market size be in 2018 and what will the growth rate be?
What are the key market trends?
What is driving this market?
What are the challenges to market growth?
Who are the key vendors in this market space?
What are the market opportunities and threats faced by the key vendors?
What are the strengths and weaknesses of the key vendors?
Latest Reports:
Negative Pressure Wound Therapy Market - Global Industry Analysis, Size, Share, Growth, Trends and Forecast, 2013 - 2019: http://www.marketresearchreports.biz/analysis-details/negative-pressure-wound-therapy-market-global-industry-analysis-size-share-growth-trends-and-forecast-2013-2019
Negative Pressure Wound Therapy (NPWT) also known as Vacuum Assisted Closure (V.A.C) is a wound dressing technique that aids in healing acute and chronic or severe wounds and also aids in speedy recovery of severe burns. This is a non-pharmacological treatment used against several types of wounds such as venous ulcers, diabetic ulcers, pressure ulcers, arterial ulcers, severe burns and others. NPWT technique involves use of filler materials to seal the surface of wound followed by application of intermittent or constant pressure through vacuum pumps. The various filler materials used in NPWT includes open cell foams, honeycombed textiles with a dimpled wound contact surface or gauze and transparent films. This technique has many advantages over conventional methods of wound dressing which are as follows:
Reduced hospitalization time
Reduces pain
Enhances healing process by reducing exudates and odor of the wounds
Non-invasive treatment
Click Here To Download Detail Report: http://www.marketresearchreports.biz/sample/toc/179971
The market for negative pressure wound therapy holds immense growth potential majorly due to increased awareness among healthcare professionals and patients, higher efficacy of the procedure. The NPWT market can be segmented by product type, applications, end users and geography. The therapy devices commercially available are ultra violet therapy devices, low intensity therapy devices and others. Hospitals, health care centers are prime end users of the negative pressure wound therapy devices. North America, Europe, Asia-Pacific are some of the major regions included in the research study.
The major factors influencing the NPWT market growth are technological advances, high prevalence of chronic wounds (such as diabetic ulcers, arterial ulcers and others), high efficiency of the process compared to conventional processes and consistent rise in diabetic population across the world. Favorable reimbursement scenario further boosts the acceptance and uptake of this therapy. On the other hand high costs of the procedure followed by lack of availability are some of the factors that might hamper NPWT market growth. Some of the companies competing in this market are Kinetic Concepts Inc., Medela, Inc., Daewoong Co., Ltd., Smith & Nephew Plc, and Talley group Ltd.
Operating Tables Market - Global Industry Analysis, Size, Share, Growth, Trends And Forecast, 2013 - 2019: http://www.marketresearchreports.biz/analysis-details/operating-tables-market-global-industry-analysis-size-share-growth-trends-and-forecast-2013-2019
Surgical operations are performed on the patient while laying them on the operation table. These tables are also referred as operation room table. These tables give a stable position to the patients for surgery and it also increases the ease of surgery for surgeons. An operating table includes operating table column, transporter and table top. The operation table can be subcategorized as standard and specialty table. These days, specialty tables are outwitting the standard table since they include C-arm imager, radio translucent material in addition than of standard table.
The operating tables can also be sub classified as stationary and mobile operating system. In stationary operating table, table column is anchored to the floor firmly. In this system, necessary medical devices are brought near to the table. However, in mobile operating table the position of the table can be changed within the operating room. Its table top segments can be easily removed and changed if required. Foot of the mobile operating table limits the availability of leg space to the surgical team however the same problem is not with stationary operating table.
Rising incidence of surgeries would augment the growth of operating tables worldwide. In addition, rising complexity in surgeries would also require the use of advanced operating tables which would enhance its growth. The American Hospital Association reported in 2013 that total number of hospitals in the U.S. is around 5,724. This increase in number of hospitals and dispensaries coupled with rise in number of surgeons will boost the growth of operating table market. Despite all these advantages, the growth of this market would be hindered due to decrease in government funding for operating tables. The National Institute of Health (NIH) of U.S. has recently announced the reduction in funding by 5% in FY 2013 against FY 2012 which accounts for around USD 29.15 billion.
Click Here To Download Detail Report: http://www.marketresearchreports.biz/sample/toc/179966
Some of the market players in this industry are Eschmann Equipment, Image Diagnostics, BERCHTOLD Corporation, Skytron Corporation, Medifa Corporation and other significant players.
This research report analyzes this market depending on its market segments, major geographies, and current market trends. Geographies analyzed under this research report include
North America
Asia Pacific
Europe
Rest of the World
This report provides comprehensive analysis of
Market growth drivers
Factors limiting market growth
Current market trends
Market structure
Market projections for upcoming years
About Us
MarketResearchReports.Biz is the most comprehensive collection of market research reports. MarketResearchReports.Biz services are specially designed to save time and money for our clients. We are a one stop solution for all your research needs, our main offerings are syndicated research reports, custom research, subscription access and consulting services. We serve all sizes and types of companies spanning across various industries.
Contact
M/s Sheela
90 Sate Street, Suite 700
Albany, NY 12207
Tel: +1-518-618-1030
USA – Canada Toll Free: 866-997-4948
Website: http://www.marketresearchreports.biz/
Blog: http://marketresearchreportsbiz.blogspot.com/