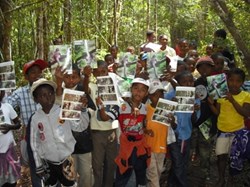 The Aspinall Foundation is honoured to have been one of the select few charities supported by this year's ICAP Charity Day.
(PRWEB UK) 3 December 2013
The Aspinall Foundation is honoured to have been one of the select few charities supported by this year's ICAP Charity Day to be held on 3rd December 2013.
ICAP, a leading markets operator, have been holding their charity day since 1993 in order to make a significant difference to charities on a larger and more innovative scale. The ICAP Charity Day – now in its 21st year - is a day on which all revenues and commissions are given away to just a few charities around the world, supported by an array of prolific people in the world of entertainment and politics. The Aspinall Foundation is thrilled to be represented at this year's charity day by Golden Globe winning actor Damian Lewis (Homeland) and Irish comedian Dara O Briain (Mock the Week). Both Damian and Dara will be giving their time for free in order to raise vital funds for The Aspinall Foundation.
Damian Lewis, who visited Port Lympne Wild Animal Park with his family last year, commented: 'All of us really enjoyed getting close to the animals and seeing the conservation work of The Aspinall Foundation in action.'
The Aspinall Foundation is a world leading conservation charity, incorporating both Howletts and Port Lympne Wild Animal Parks in Kent. The wild animal parks are centres of excellence for breeding some of the most rare and endangered species on the planet, with a view to returning them to protected areas in the wild, wherever possible.
The money raised by the ICAP Charity Day is being invested in the development of a purpose built eco-friendly ICAP Education Centre at Port Lympne. The centre will also encompass a brand new accommodation development targeted at school children, giving them an immersive overnight experience within the magnificent grounds of Port Lympne Wild Animal Park. The development will be in close proximity to several animal enclosures, giving the real feeling of camping in the wild. The whole project will allow the foundation to educate all visitors about the charity's vital efforts for the conservation of endangered animals, as well as the wilderness areas needed to protect them in the wild.
Bob O'Connor, Managing Director Of Howletts and Port Lympne Wild Animal Parks explained: 'We are honoured to have been chosen by ICAP as one of the charities to benefit from The ICAP Charity Day. We educate over 500,000 people a year on the value and importance of the natural world at our wild animal parks and our overseas conservation projects in Africa, Indonesia and Madagascar. Overseas, we work closely with local communities providing education and employment for mostly poverty stricken areas. This ICAP Education Centre will enable us to continue and expand our education efforts and inspire those of all ages and walks of life, from primary school children to conservation professionals and our visitors.'
The ICAP Education Centre will provide the opportunity for all of the park's visitors to learn in a fun and engaging way that will both inspire and motivate. This will include a special programme of inclusion for local under-privileged children, as well as the opportunity to positively engage with special needs children by providing a sensory experience. It will also allow the foundation to deliver courses for university and college students, as well as for keepers from other national and international zoos. This will allow the keepers and Education team to share the invaluable skills and knowledge that they have gained through the foundation's successful breeding programmes.