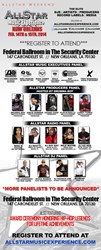 NEW ORLEANS, LA (PRWEB) December 19, 2013
In an unprecedented move for All-Star Weekend, MP3Waxx.com and VirDIKO.com announced their highly anticipated collaborative event the "All Star Music Experience," will take place on Feb. 14 –15, 2014 during All Star Weekend in New Orleans, Louisiana. The 2-day event will bring together the best in the music business, meshing legendary personalities with a new era of influencers, for a much needed networking and revitalization industry event during one of the year's most celebrated weekends.
The All Star Producers Panel will feature Multi-Platinum Producers Drumma Boy, Erick Sermon, Play-N-Skillz and Luney Tunez, along with producer Young Chop. The All Star DJ Panel will feature the likes of the Legendary DJ Kid Capri, Bigga Rankin (Cool Running DJs), DJ Krunch One (Street Connect DJs) and DJ Demp (Core DJs), along with an All Star Radio Panel made up SiriusXM's Nina 9, DJ Nasty (Miami's WEDR 99 Jamz), DJ Bay Bay (Dallas' KKDA K104), Wild Wayne (New Orleans' Q93) and DJ OO Kee of Foxie 105 in Columbus, Georgia. An All Star Music Executives Panel consisting of representatives from Atlantic Records, Island Def Jam, RCA Music Group, Columbia Records, Universal/Republic Records, and Brand X Networks, rounds out the highly anticipated informational panels, with more panelists to be announced. The event will wrap up with an Award Ceremony to Honor Hip-Hop Legends for Lifetime Achievements.
"We're putting on this event to show that relationships in this industry can still get you where you need to go. An event like this, of this magnitude, hasn't been done in years. Nobody is networking and discovering artists like they used to, so everybody is really excited about the All Star Music Experience. An event like this is long overdue and this will be the first time it's successfully done during All Star Weekend," explains Chris "MP3Waxx," President of MP3Waxx.com.
When asked about the star-studded lineup of the All Star Producers Panel, Chris "MP3Waxx" says, "Drumma Boy came to us with the idea to do a producer's panel and host it. His excitement and involvement just validates the quality of artist and caliber of industry professionals that we're bringing to the event."
The All Star Music Experience caters to all artists, producers, songwriters, and record label executives, regardless if signed to a major label or independent. This event is for everyone. "It was highly anticipated before we even reached out to people, and it's being touted as a much needed breath of fresh air in the industry. Everyone we've spoken to really respects what Chris and I are doing and the valuable networking opportunities we're aiming to provide those who attend," says VirDIKO.com President Kevin Netters.
The 2-day event will be held at the Federal Ballroom in The Security Center located at 147 Carondelet Street in New Orleans. To register to attend, or for media credentials, please visit http://www.AllStarMusicExperience.com.