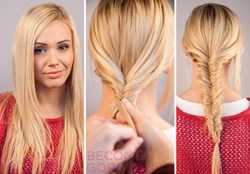 At Becomegorgeous.com, our mission is to help women find hair styling ideas that match their needs.
(PRWEB) December 05, 2013
Braided hairstyles can be a great choice for both daytime looks and formal events and mastering a few of these looks can be extremely useful especially now, when holiday season is around the corner. The fishtail braid and the waterfall braid are two popular braid styles which can add complexity to any hairstyle, while a braided updo inspired by Katniss Everdeen's bridal hair from the well known "Hunger Games" series can be a fun choice for those who want to try something more complex.
Becomegorgeous.com aims to help women master these popular braid styles with three video tutorials. One shows them how to fishtail braid in just two minutes. Another one takes them through all the steps of creating a waterfall braid. As for the Katiness Everdeen hair tutorial, it makes the process of getting a look similar to the heroine's bridal hairstyle easy by revealing all the steps and offering detailed instructions. These styles can seem complex for beginners, but they are easy to do with a bit of practice.
Learning how to fishtail braid is a task that seems quite complex at a first glance. However, after mastering the basic technique, it will quickly become apparent that it can be a good, easy choice for adding a polished vibe to any look. The fishtail braid tutorial from Becomegorgeous.com reveals every step of creating the look, offering both verbal instructions throughout the video (which is available on the site as well as on Youtube), and convenient written instructions which make it easy to remember the main steps of creating the look and eliminates any possible misunderstandings.
Like the fishtail braid, the waterfall braid is another simple option which can quickly transform a look. The waterfall braid video tutorial provides easy to follow, step by step verbal instructions on how to create the stunning look. To make things even more clear, the article also includes simple written instructions of the process, which can be useful for further reference or for quickly finding information on the parts of the process that are more challenging.
The Katniss Everdeen hair tutorial aims to help "Hunger Games" fans replicate the coveted bridal hairstyle the main character wore in "'The Hunger Games: Catching Fire" movie. In addition to a detailed video that shows each step of the process, providing explanations along the way, the article brings an easy to follow list of the main steps, to make the learning process as smooth as possible.
About us
Becomegorgeous.com was created in 2007 and has become a comprehensive source of information on high interest topics for women of all ages ever since.