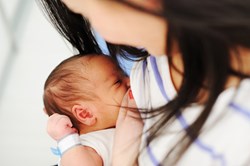 A return to nurturing and feeding children in a natural way will not only increase UK's present low rates for breastfed children, but it will also ensure the next generation will become familiar with the natural process.
London (PRWEB UK) 11 December 2013
The most common conditions for inpatient admissions among infants and toddlers are lower respiratory tract infections, gastroenteritis, eczema, otitis media (ear infection), lactose intolerance and asthma. Analysis show a combination of skin-to-skin contact, a natural occurrence in those who are breastfed, and breastfeeding can improve the child's health even through to the age of 5. (1)
The report highlights the impact that breastfeeding can have on infant health conditions, particularly for high-risk preterm babies, and the need to improve the UK's low breastfeeding rates in certain areas of the country and among social groups adverse to it. Advertising breastfeeding at neo-natal facilities along with the current ads for formula milk, and providing proper information, counsel and support can further reach these areas and help make the change.
UNICEF's report last year on Preventing Disease and Saving Resources: The potential contribution of increasing breastfeeding rates in the UK started the initiative by the NHS to promote breastfeeding in low-income areas. The latest incentives being offered as a pilot scheme by the University of Sheffield consists of distributing shopping vouchers of £120 in the first six weeks after the baby is born, with a further £80 offered if they continue the breastfeeding until the infant is six months. This has caused quite a controversy in the media, but the final success of offering financial incentives will only be known after careful study over a period of time. (2)
In some communities where the act of breastfeeding may be considered immoral or cause undue embarrassment for the women, proper social and medical support may need to be set in place to help highlight the importance for the infants health and development. Even though the initial stages of feeding may be difficult, having the support and knowledge of how to do it properly, and with the media offering support and exposure, there is a chance these numbers can be improved. (3)
In addition, Superintendent Pharmacist at Chemist Direct, Omar El-Gohary said:
"The combined reports from the Department of Health and UNICEF should make us evaluate how much we have invested in children's overall well-being, and what further initiatives can be made to promote positive parent-child interaction from the time of birth.
A return to nurturing and feeding our children in a natural way will not only improve health outcomes in breastfed children, but it will also ensure the next generation will become familiar with the natural process for child dependency which will then be passed on to the next generation".
References:
1. http://www.unicef.org.uk/BabyFriendly/About-Baby-Friendly/Breastfeeding-in-the-UK/UK-Breastfeeding-rates/
2. http://www.independent.co.uk/life-style/health-and-families/health-news/the-nanny-state-mothers-could-be-paid-to-breastfeed-their-babies-8933503.html
3. http://www.unicef.org.uk/BabyFriendly/Resources/General-resources/Preventing-disease-and-saving-resources/